Mainpage
>
Articles
>
UNI-T
>
The new UNI-T multimeter even for testing of batteries
The new UNI-T multimeter even for testing of batteries

If you often work with batteries and SMT transistors, then the new UT132B multimeter is the right choice for you.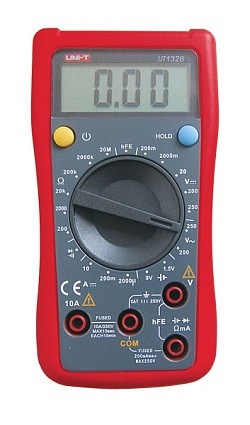 Into our offer we incorporated the new UT132B multimeter - a "brother" of the UT132D, type, which we have introduced to you recently. UT132B provides practically the same functions, including possibility to measure hfe of SMT transistors , NPN and PNP types in a SOT-23 package, by means of a special adapter. The difference between these two instruments is, that UT132B features measuring of 1.5V and 9V batteries status. That´s why it is ideal for everyone, who needs to simply and quickly judge status of batteries. Measuring of 1.5V batteries is proceeded at a 15 Ohms load and measuring of 9V batteries at a 1 kOhm load. The instrument has a HOLD function and a main switch, thus it is not necessary to turn a measuring ranges switch to switch off the device. Similarly like UT132D, also UT132B is very reliably and comfortably held in a hand thanks to compact dimensions and an ergonomic shape.
Advantages / Features:
compact universal multimeter
hfe measuring also for SMT SOT-23 transistors
measuring of batteries
test of diodes and acoustical continuity test
data hold
convenient price
Measuring ranges:
DC Voltage:
200mV, 2V, 20V, 200V -accuracy: +-(0.5% +2d)
250V +-(0.8% +2)

AC Voltage:
200V, 250V +-(1.2% +3)

DC Current:
2000uA +-(1% +2)
200mA +-(1.2% +2)
10A +-(2% +5)

Resistance:
200Ohm, 2KOhm, 20kOhm, 200kOhm, 2000kOhm +-(0.8% +5)
20Mohm +-(1% +5)

In case of interest please contact us at info@soselectronic.com.
Date of publishing 2012-02-20
When you issue article on your website, please give its source: http://www.soselectronic.com/?str=1060
On-line information from SOS electronic
Updated 2013-05-18 03:40:27
Picture
Type
Description
Order number, Kind of Product
Manufacturer (Brand)
In stock


*External stock
(Pending)

Price excl.VAT
Digital multimeter 3,1/2 U,I,R,C,hFE,buzzer, bat. teser
Order number: 116752, S, RoHS
Multimeters
UNI-T

0 pcs
*0 pcs
(20 pcs)

11.9000 EUR

Digital multimeter 3,1/2 U,I,R,C,hFE,buzzer
Order number: 113033, S, RoHS
Multimeters
UNI-T

0 pcs
*0 pcs
(20 pcs)

12.8000 EUR
3+/12.1000 EUR

SMD tweezers, curved 45°angle tip, uninsulated 120mm
Order number: 65508, S, RoHS
More info: wiha_esd_tweezers.pdf
Tweezers
WIHA

3 pcs
*0 pcs
(-)
16.5400 EUR

SMD tweezers, straight, uninsulated 120mm, angled head
Order number: 65509, S, RoHS
More info: wiha_esd_tweezers.pdf
Tweezers
WIHA

3 pcs
*0 pcs
(-)
16.8500 EUR
3+/15.8000 EUR

Antistatic table mat 60x120cm 2xsnap M
Order number: 80039, O, RoHS
Tools various
Item on request
Get Quote
Antistatic table mat 50x60cm
Order number: 58151, O, RoHS
Tools various
Item on request
Get Quote
Antistatic wrist strap, spiral 1,8m
Order number: 1258, S, RoHS
Tools various
0 pcs
*0 pcs
(-)
3.8800 EUR
5+/3.3900 EUR