Mainpage
>
Articles
>
WAGO
>
Assemble profesionally – with the Wago profi set!
Assemble profesionally – with the Wago profi set!
Company Wago comes with the spring offer, which enables you to buy the whole set of tools and terminals for the convenient price.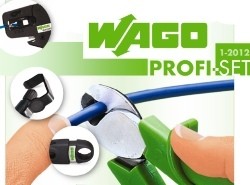 Cutting and stripping tools for wires and cables of various diameters – this is naturally the basic equipment for effective electric installation assembly.
Advantages / Features:
complete set of the most of used tools and installation push-wire connectors
quality tools for an effective work
significant price favor
Wago Profi set contains all tools necessary for a quality and quick work – wire cutters, stripping tool, stripping tool for round cables with a diameter up to 11 mm and the stripping tool for cables with diameters up to 45 mm. When we add to them 5 types of the most often used push-wire connectors 2273 series (850 pcs in total), we´ll get a set, which will make perhaps every fitter happy. For the price, which is significantly more convenient, than a purchase of single items separately, you have a possibility to gain a complete set. Wago Profi set 1-2012 is available for you directly from our stock.
In case of interest about any Wago product, please contact us at info@soselectronic.com.
Date of publishing 2012-04-11
When you issue article on your website, please give its source: http://www.soselectronic.com/?str=1088
On-line information from SOS electronic
Updated 2013-05-24 17:36:25