Mainpage
>
Articles
>
>
Semiconductors
Hold onto friendly modules with an ARM processor
Advantages / Features:
powerful module with an ARM9 processor and many interfaces
SDRAM 1GB, 100 MHz
supports Linux 2.6, Android a WinCE 5-6 OS
3,5"(320x240) or 7"(800x480) TFT display with a touch panel
universal usage for control of many applications
Samsung S3C2440A processor/ 400MHz/ max 533 MHz
32 bit data bus
NAND and NOR Flash with a BIOS installed
10/100M Ethernet with an RJ-45 connector
3 serial ports
USB host and USB slave interface
stereo audio out – 3,5mm jack/ Mic in
20-pin camera interface
RTC with a backup battery
5V power supply with a switch and LED
mains adapter included
Complete modules Friendly ARM with a powerful ARM9 - S3C2440A/ Samsung processor and touch displays provide a powerful platform even for demanding applications.
A much faster development of applications with ARM processor can be reached with two new types of modules from Friendly ARM series – Mini2440 with TFT displays and resistive touch panels. The ARM-06633 has a 3,5" display with 320x240px resolution and the ARM-06637 has a 7" display with 800x480px resolution. As already their name says, they are designed with emphasis on a maximum integration of various peripherials and interfaces, thus for an easy implementation to a target device. That´s why, on the module can be found a NAND and NOR Flash with a BIOS installed, 10/100M Ethernet with RJ-45 connector, 3 serial ports, USB host and USB slave port, SD card interface, stereo audio output and a microphone, user LEDs and buttons, potentiometer for usage with an AD converter, camera interface, but even a real time circuit with a backup battery and other. The modules support Linux 2.6, Android and WinCE 5/6 OS. With dimensions only 10x10 cm they provide wide possibilities of usage, with a possibility of control via a touch panel. Modules are sufficiently powerful for operation in stand-alone devices, but also in various distributed systems, at a data acquisition, control and monitoring of production processes etc. Detailed information will provide you the Mini2440 datasheet and the datasheet of the processor S3C2440. Further information can be found at: http://www.friendlyarm.net/downloads.
In case of interest, please contact us at info@soselectronic.com.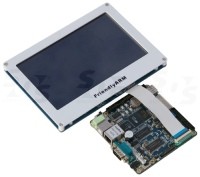 Date of publishing 2012-06-29
When you issue article on your website, please give its source: http://www.soselectronic.com/?str=1133