Mainpage
>
Articles
>
KONTAKT CHEMIE
>
Tools
Even your PCBs can look professionally
Advantages / Features:
efficient agent for cleaning PCBs from residues after soldering
dissolves all types of fluxes
prevents leakage currents
ideal as a preparation before protective coating application
the can is also usable upside down
filled by environmentally friendly gas
available in 200 ml and 400 ml aerosol package
All about brand KONTAKT CHEMIE
Whether it´s a prototype or a whole production batch of PCBs, Kontakt PCC cleaner will manage any residues after soldering.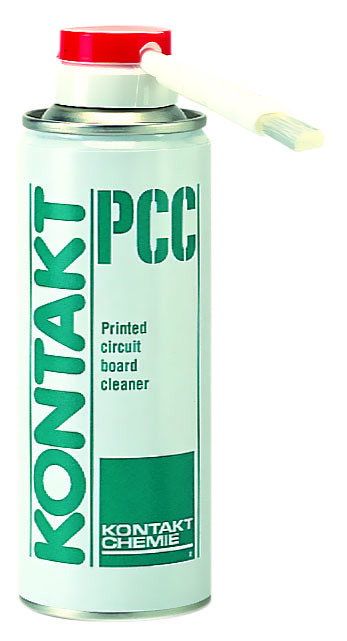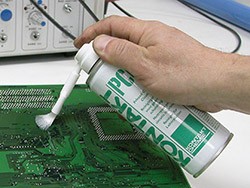 Manual intervention to a PCB is usually always visible. With modern "No-clean" fluxes it´s not that obvious as in the past. But still it doesn´t make resulting look of a PCB better. However, probably more important is the fact, that soldering residues are a potential risk, especially in humid environment - as they may cause a corrosion and leakage currents.
A PCB can be cleaned by various solvents (often also ecological ones - water based), but some residues are often simply too persistent ... That´s why we need a solvent, which is relatively "as strong as possible, but safe for solder resist, marking and components with plastic packages at the same time.
Spray Kontakt PCC is developed specially for these purposes, what´s raised by a fact, that it´s equipped by application brush, helpful for a fast dissolving of thick layers. To maintain ESD safety, it´s necessary to moisten the brush by short pressing the valve before touching a PCB.
Kontakt PCC dissolves all types of fluxes without leaving residues. When cleaning thick layers, it´s necessary to wipe wet board with a paper tissue or similar. In result we gain perfectly clean PCBs resistant to leakage currents formation. Naturally, to obtain a long-term protection it´s advisable to use some of protective coatings like for example Plastik 70, Urethan 71 or Silisol 73 and other. Thanks to a strong effect, Kontakt PCC is also suitable for cleaning of various connectors, sockets, contacts, comutators of electric motors, ...
Kontakt PCC is safe for majority of plastics except a few very sensitive types (e.g. polystyrene, polycarbonate). If a whitish coating appears after cleaning, usually it means, that the board was already treated by a protective coating (lacquer) before. In this case it´s possible to restore perfect look by application the Plastik 70.
Kontakt PCC is available in a 200ml and 400 ml package. Detailed information will provide you the Kontakt PCC datasheet. In case of interest, please contact us at info@soselectronic.com.
Gain the Kontakt PCC spray for free!
On this place there was a sontest with a contest question:
What propellant gas is used in the Kontakt PCC spray?
Correct answer was:
CO2
These participants were drawn by lots:
Trajteľ Peter [SK]
Steinmüller Petr [CZ]
Vaštag Štefan [SK]
Csizmadia Csaba [HU]
Heller Tamás [HU]
Tomis Petr [CZ]
Surma Jan [PL]
Ádám László [HU]
Málek Josef [CZ]
Wolf Richard [DE]

Congratulations to winners. We´ll inform them by e-mail.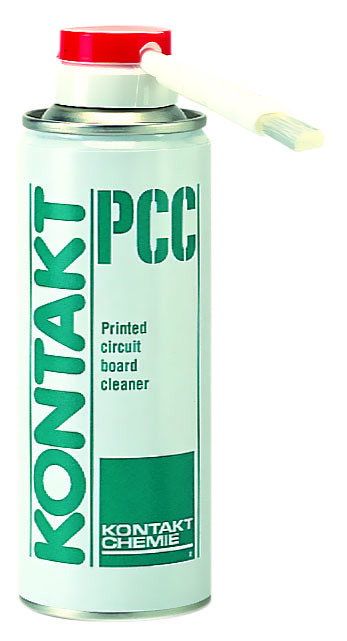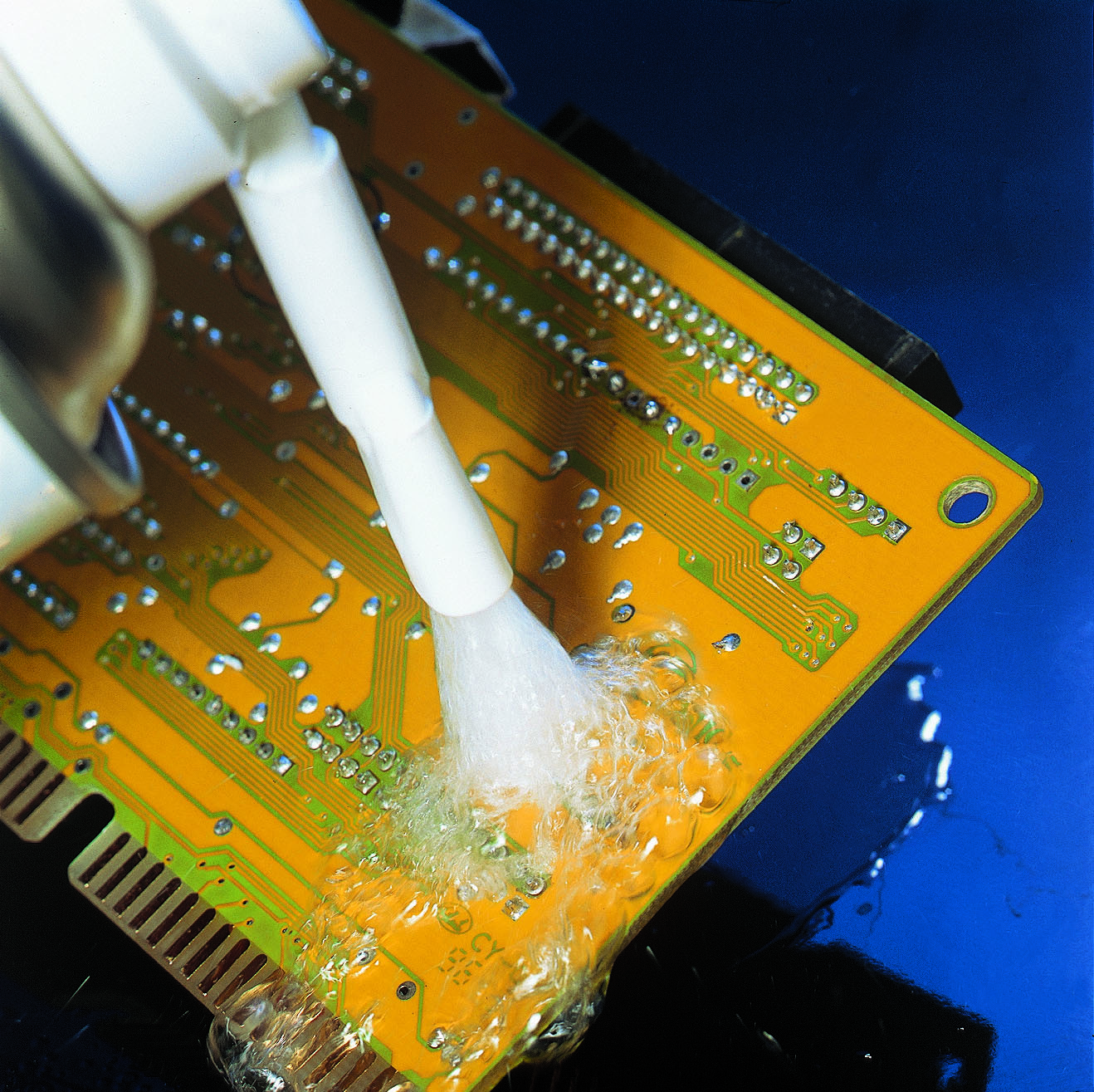 Date of publishing 2015-02-05
When you issue article on your website, please give its source: http://www.soselectronic.com/?str=1662
On-line information from SOS electronic
Updated 2016-05-28 04:30:29
Picture
Type
Description
Order number, Kind of Product
Manufacturer (Brand)
In stock


*External stock
(Pending)

Price excl.VAT
Cleaning spray
Order number: 40154, S, RoHS
More info: KontaktPCC_TDS.pdf
Sprays
KONTAKT CHEMIE


Restrictions of sales

1000 pcs
-
(-)
6.1300 EUR
3+/5.6000 EUR
12+/5.2300 EUR

Spray - cleaner and flux remover for PCBs
Order number: 89712, A, RoHS
More info: KONTPCC.pdf
Sprays
KONTAKT CHEMIE


Restrictions of sales

1029 pcs
-
(-)
Special offer
9.7500 EUR
3+/8.9100 EUR
12+/8.3200 EUR

Photosensitive polish
Order number: 33241, S, RoHS
More info: positiv20.pdf
Sprays
KONTAKT CHEMIE


Restrictions of sales

23 pcs
-
(-)
11.5200 EUR
3+/10.5200 EUR
12+/9.8300 EUR

Protective polish
Order number: 33228, S, RoHS
Sprays
KONTAKT CHEMIE


Restrictions of sales

100 pcs
-
(-)
4.6200 EUR
3+/4.2200 EUR
12+/3.9400 EUR

Protective polish
Order number: 33229, S, RoHS
Sprays
KONTAKT CHEMIE


Restrictions of sales

89 pcs
-
(-)
7.6300 EUR
3+/6.9700 EUR
12+/6.5200 EUR

Transparent insulating and protective coating
Order number: 46763, S, RoHS
More info: PLASTIK70_TKC3.pdf
Sprays
KONTAKT CHEMIE


Restrictions of sales

25 pcs
-
(-)
19.8000 EUR
3+/18.0800 EUR
12+/16.9000 EUR

Coating protective and insulating 1L
Order number: 64925, S, RoHS
More info: Urethan71_TDS.pdf
Sprays
KONTAKT CHEMIE


Restrictions of sales

13 pcs
-
(-)
29.9700 EUR
3+/27.3700 EUR
12+/25.5700 EUR

Protective and insulating spray
Order number: 33232, S, RoHS
More info: urethan71.pdf
Sprays
KONTAKT CHEMIE


Restrictions of sales

22 pcs
-
(-)
5.7800 EUR
3+/5.2700 EUR
12+/4.9300 EUR

Label off cleaner
Order number: 33211, S, RoHS
More info: LabelOff50_TDS.pdf
Sprays
KONTAKT CHEMIE


Restrictions of sales

746 pcs
-
(-)
4.9600 EUR
3+/4.5300 EUR
12+/4.2400 EUR