Industrial Apacer microSD memory card combine MLC flash with special firmware which significantly improves programming speed and number of programming/erasing cycles.
This is an archive article published 01/22/2016. Some information may no longer be up to date and in line with the current state. Please contact us in case of interest.
Erased cell hasn't charge (electrons) stored in gate and threshold voltage of transistor is Vt1. Charge is transfered into the gate during programming and increases threshold voltage to Vt0. During read operation Vref voltage is connected to gate and current between drain and source of transistor is evaluated. Cell is programmed if current is lower than predefined threshold. This status corresponds to logic level 0 (L). Oposit case is evaluated as logic level 1 (H). Erase operation removes charge from gate and threshold voltage returns in ideal case to value Vt1.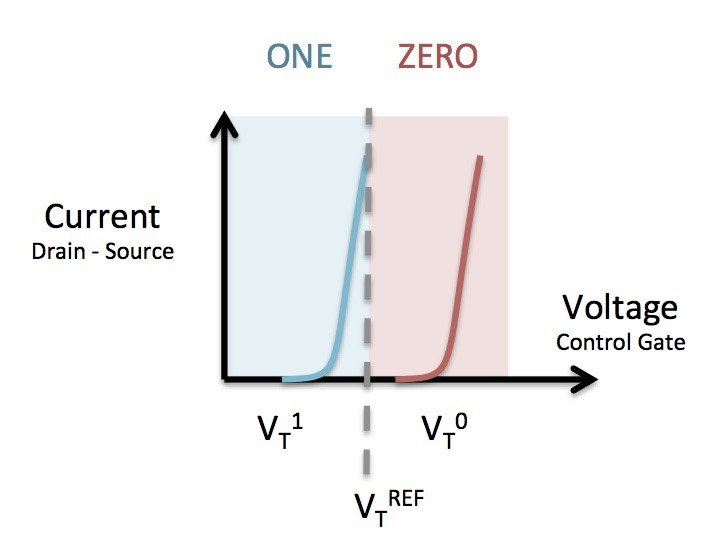 In the practice during programming isn't stored always the same charge into gate, after erase operation some charge can remains stored in gate also read operation can disturb charge stored in adjacent cels. Threshold voltages difference decreases after each programming/erasing (P/E) cycle until finally reach value when it is not possible to distinguish between programmed and erased state. Because of this, every flash cell has limited number of P/E cycles. As dimmensions of cell decreases number of P/E cycles also decreases. SLC (single-level cell) flash SLC flash cell stores 1 bit. Cell is erased if Vt belongs to area 1, if it is located inside area 0 then cell is programmed.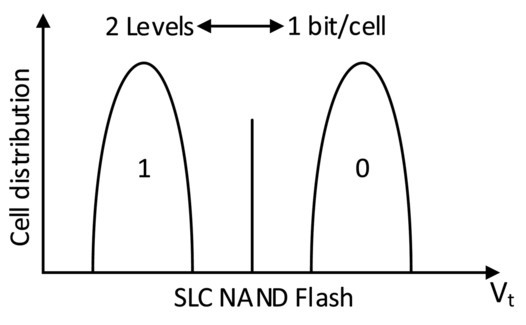 MLC (multi-level cell) flash
MLC flash stores 2 bits. If Vt belongs to area 11 – cell is fully erased, 01 – partially erased, 00 – partially programmed and 10 – fully programmed. Programming circuitry has to store four different charges into the gate. To achieve this precise distribution of charge a more sophisticated and time consuming programming algorithm is required. As a result, the programming time for MLC flash is up to 4X slower than that for SLC flash. Reading is also slower. Threshold voltages difference is also lower than that for SLC flash which drastically decreases number of P/E cycles.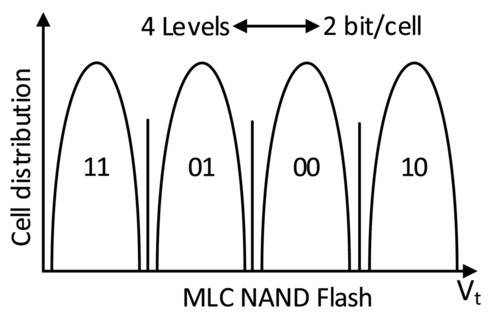 SLC-Lite
SLC-Lite technology is based on MLC flash but firmware is changed in a such way that it only uses states 11 and 10 (maximal threshold voltage difference)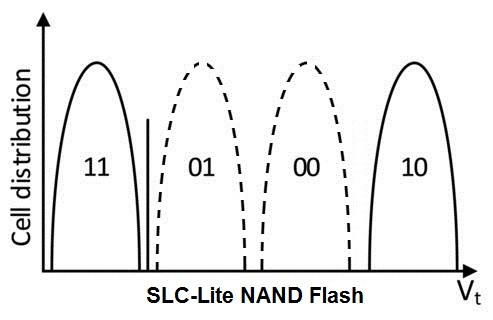 SLC, SLC-lite and MLC flash comparison (based on Toshiba flash chips)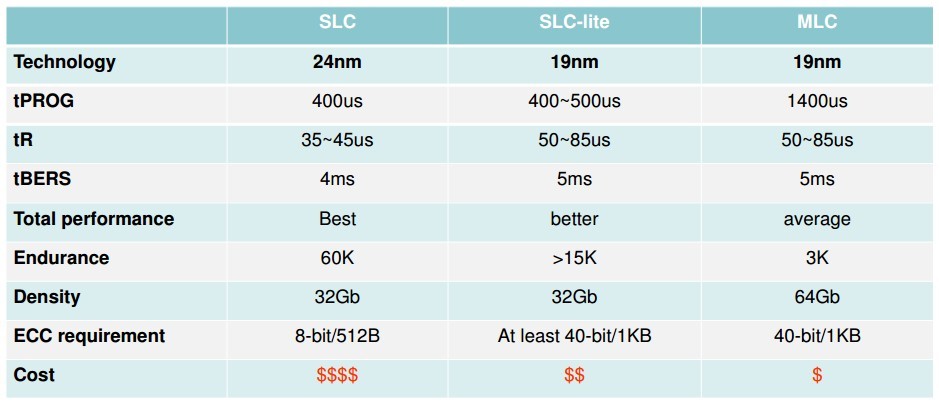 The first samples of Apacer memory cards with capacity
4GB
and
8GB
we have in our stock. In case of interest please contact us at
sales@soselectronic.com
.
Advantages/disadvantages:
Number of P/E cycles increased 5 times

Programming is 4 time faster than for MLC

Read performance almost the same as for SLC

Cost is 40 to 50% lower than SLC flash

Only half capacity of MLC flash
Do not miss these articles
Do you like our articles? Do not miss any of them! You do not have to worry about anything, we will arrange delivery to you.