What parameters should you consider when choosing a reliable storage for industrial embedded devices? And which powerful embedded system storage is our No.1 choice? Find all the answers in the article.
This is an archive article published 09/18/2020. Some information may no longer be up to date and in line with the current state. Please contact us in case of interest.
SLC-based SSDs are still considered the most reliable storage for industrial embedded devices, but technology is evolving rapidly and currently provides a good alternative at a competitive price.
SLC-liteX Technology
Apacer developed SLC-lite technology which uses 2D MLC flash that can store 2 bits/cell. When programming only one of the two bits, the least significant bit (LSB), threshold voltage distribution behaves similarly to the SLC flash memory cell. The program/erase cycle (P/E) count is then greatly increased, reaching 20,000. By comparison, the standard 2D MLC allows 3,000 P/E cycles.
Apacer used a similar concept for 3D TLC NAND Flash that can store 3 bits/cell. Programming only one of the three bits (SLC-liteX) allows the number of P / E cycles to be increased to 30,000.
The SLC-liteX series products are either covered by a 5-year warranty or the period ending on the date when the SSD has exceeded 30 000 Erase Count, which is indicated by Apacer's SMART software, depending on whichever situation occurs first.
For an overview of the warranty period for Apacer SSDs, please see the following figure.


For a full warranty statement, please visit the Apacer website.

MLC, TLC, SLC-liteX and SLC Comparison
Intel no longer offers 32-bit drivers for Windows operating systems for processors newer than Apollo Lake and 3rd generation Core, Pentium or Celeron processors, thus typical embedded devices will use 64-bit versions of OS.
The current version (1903) of Windows 10 Pro 64-bit requires storage 32GB or greater, Windows 10 IoT Enterprise LTSC 64-bit, version 1903 and prior requires min. 20GB. An embedded system is usually single-purpose and runs only one application. It usually does not require high storage capacity for operation, so we've limited our comparison to 256 GB.
We selected the most commonly used Apacer SM230-25, MLC, 2,5" 32GB SSD as a reference and compared features of other SSDs.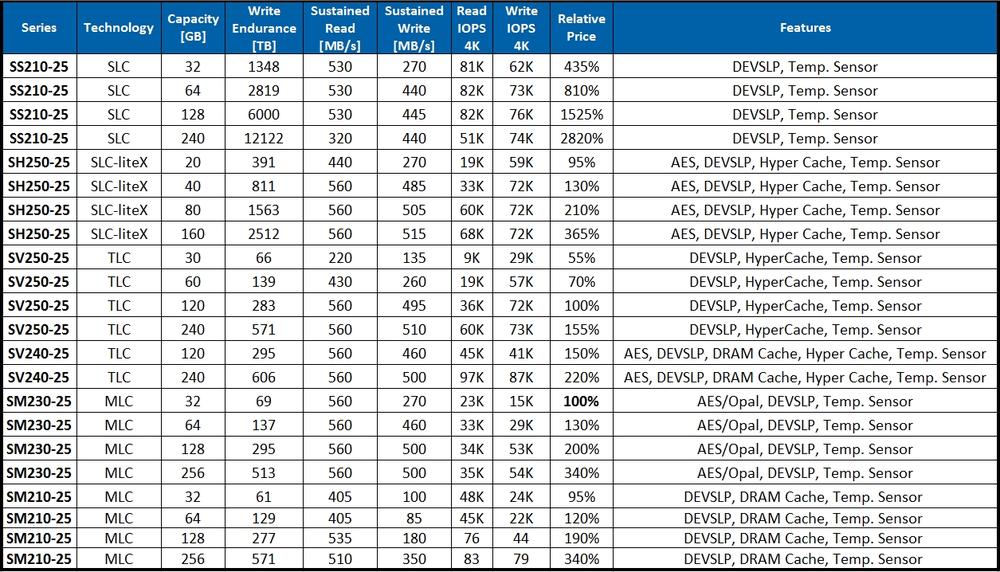 Estimation of write endurance complies with JEDEC JESD-219, enterprise endurance workload (24hrs/day). Sequential read/write speed is tested using CrystalDiskMark 5.2.1 with a file size of 1,000 MB. The random read/write speed is tested using an IOMeter with a queue depth of 32.

32GB SSD for Embedded System
As you can see SS210-25, 32GB SLC SSD provides the best performance at almost all parameters, but is 4,35 times more expensive than reference SSD.
SH250-25 SLC-liteX series doesn't offer 32GB, the closest larger capacity is 40GB. Price of this SSD is only 30% higher than the reference SSD and simultaneously its performance is far better. With almost 12 times higher write endurance, 5-years guarantee and hardware AES encryption, this SSD is our clear choice for high-performance embedded system storage.
SSDs based on TLC flash offer lower prices than the SM230-25 SSD series. If you do not need hardware AES encryption and OPAL, you can buy 120GB, SV250-25 with better technical parameters for the same price as the reference SSD. If you need hardware AES encryption, SV240-25, 120GB SSD is a good option. Price is only 50% higher than reference SSD.
For more information regarding the APACER products, feel free to contact us at sales@soselectronic.com

Do not miss these articles
Do you like our articles? Do not miss any of them! You do not have to worry about anything, we will arrange delivery to you.