M.2 connectors originally known as NGFF (New Generation Form Factor), become gradually more popular over the form factor MiniPCIe and are used as a standard in computers, communication equipment, and M2M applications.
This is an archive article published 04/09/2019. Some information may no longer be up to date and in line with the current state. Please contact us in case of interest.
The main advantage of M.2 connectors, we chose the 123A Series from ATTEND, is the implementation of PCI Express 3.0, Serial ATA 3.0 and USB 3.0. buses into one connector. This eliminated the limitations of SATA interface. The connector is considerably miniaturized and at the length of only 21.8 mm, it has up to 75 pins (0.5mm pitch/ 50V/0,5A).
M.2 connectors are designed as a standard for SSD memory media, WiFi, Bluetooth, GPS/GNSS, NFC, and other modules.
An important fact is that connectors are produced with various keying (A-M). That provides a possibility to differentiate various modules on one board and prevents improper connection (PCIe x2, PCIe x4,...). There are 12 different keys in total, but e.g. SSD modules typically use only 2 of them - B, M, and combination B+M.
M.2 connectors are designed for direct insertion of PCB, i.e. one part of the connection (M) is the PCB and another part is the connector (F). Connectors support various PCB widths - 12, 16, 22 and 30 mm. Depending on a type, M.2 connectors also enable double-sided assembly of components on the PCB.
There is a nomenclature (on the next picture) for specifying the modules for M.2 sockets. The code defines the size, maximum height of components, single or double side assembling and the keying.
We have selected two specific examples of module codes:

3042-S3-B:
Width - 30mm
Length - 42mm
S3 - PCB single side assembled, the maximum height of components 1,5mm
Keying B
2242-D2-B-M:
Width - 22mm
Length - 42mm
D2 - Double side assembled PCB, the maximum height of components 1,35mm
Keying B and M (missed pins 12-19 and 59-66)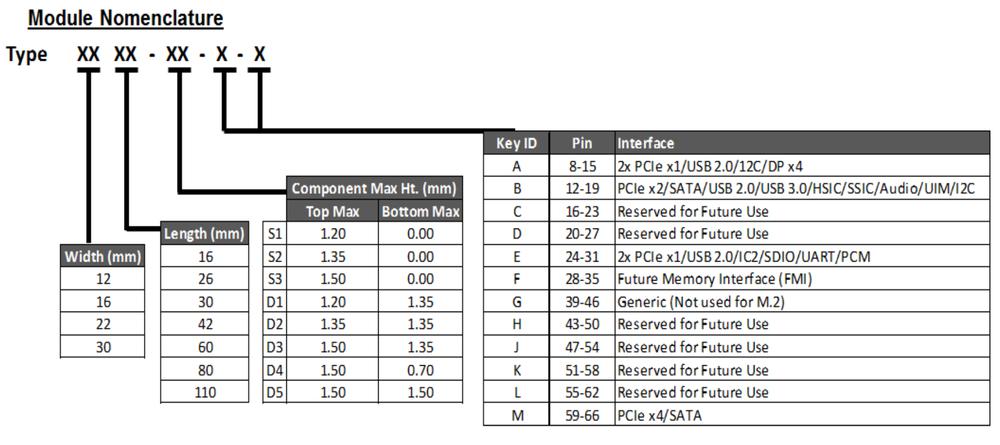 We offer modules in form factor M.2, which are suitable for connectors 123A from Attend.
It is mainly industrial SSD modules from APACER in two sizes - 2242 and 2280, and with capacity from 32 up to 120GB.
Other M.2 modules available from our assortment are communication modules from QUECTEL. They use LTE technology and have space-saving M.2 form factor. They are ideal for M2M and IoT applications.
Selected M.2 connectors from 123A Series from ATTEND can be found in our stock. They are available in 3 different sizes (heights). The height 3,2mm is available with keying A, B, E, and M. Version 4,2mm with keying B and M and the version 5,8mm only with keying B. Any other version of connectors from 123A Series are available upon request.
If you need more information or you are interested in other ATTEND products, we are happy to assist you at sales@soselectronic.com
Features/Advantages of M.2 (NGFF) connector:
Miniaturize your layout problems

Compared with mini PCI-e, M.2 saves 25% in heights and 55% in the space of the PCB layout

Supports A/B/E/M key

Supports multiple Wireless connectivity and SSD module card types

Applications: Tablets, Servers, Smart TV/STB, Gaming, PCs
Videos
New Generation Form Factor connectors used in new types of SSD disks, WiFi and WAN modules, expansion cards and for general use.
Do not miss these articles
Do you like our articles? Do not miss any of them! You do not have to worry about anything, we will arrange delivery to you.