Top class multimeter Benning CM8 examines even motors
Inrush current, effective power, power factor, harmonic distortion, ... all these and other parameters handles CM8 with easiness.
This is an archive article published 27.09.2013. Some information may no longer be up to date and in line with the current state. Please contact us in case of interest.
Clamp multimeters are often used mainly thanks to their ability to measure AC (and even DC) current even without a disconnection of a wire. But it´s only one basic feature, which more sophisticated devices can use even for another purposes, like comfortable measuring of power and power factor.
Benning CM8
is a device able to provide detailed information regarding power conditions in a measured circuit and measure much more than usual clamp meters, for example:

● measuring of inrush current

● measuring of effective power in 4 ranges - 4/40/400/600 kW + calculation of a power factor in a full range -1,00...0...+1,00

● VAC true RMS in a frequency range of 45-500Hz, high accuracy up to a crest factor of 3

● harmonic distortion with 0,1% resolution and sensitivity up to 25-th harmonic (ACV, ACA)

● measuring of DC current up to 600A (0.1A resolution)
It can be said, that Benning CM8 is a device, with which it´s possible to check even large circuits and for example find possible source of defects and similar. Thanks to a measurement of inrush current it´s able to give a real information about a load of a circuit and thus for example to give an information, whether it´s possible to add another device into a given circuit etc.
Detailed information about the CM8 will give you the
Benning CM8 user guide
and an
overview of Benning measuring and testing devices
.
In case of interest in any
Benning
product, please contact us at
info@soselectronic.com
.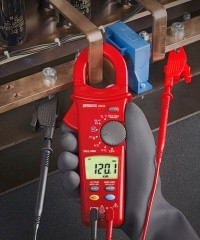 Advantages/ Features:
top-level multimeter for a power analysis of single- and 3-phase mains
measuring of an effective power (4/ 40/ 400/ 600 kW) with a 1W resolution
calculation of a power factor (cos φ)
True RMS up to 1000V, 600A AC/DC
DC A up to 600A with 0.1A resolution
measuring of inrush current (motors,..)
measuring of harmonic distortion (AC V, AC A)
indication of a load type (inductive, capacitive)
phase sequence test (RST, L1L2L3)
Max/Min and Peak
measuring of resistance (600Ohm, 60 Ohm, 20 kOhm)
measuring of frequency (400Hz, 4kHz)
measuring of temperature (-50...+1000°C)
measuring of diodes and continuity test
max. clamp opening 40mm
Do not miss these articles