If you´re facing a decision which diode to use in your device or searching for a replacement, then this article is dedicated right for you.
This is an archive article published 03/20/2013. Some information may no longer be up to date and in line with the current state. Please contact us in case of interest.
Reliable diodes are often one of the fundamental pillars of a proper operation of devices. Many designers choose a suitable type so to say "by an eye" , by experience. So it can easily happen, that there will be used a uselessly overrated diode (occupying more PCB space) or in a worse case - an insufficiently rated diode, which will work in a given device on the border of its possibilities.
Diodes in general feature one good property - they´re relatively easily replaceable by a similar type from another producer. KAs SOS electronic is the authorized distributor of company Diotec, we´re able to offer you a suitable type for virtually any device, or a replacement for almost any diode from other producers.
Diotec as a producer specialized mainly on diodes, offers a wide portfolio of diodes with axial leads, in SMT packages, including power types like power sod-123, Power-SMD, D-PAK (TO252AA) and D2PAK (TO263AB), super-fast with low losses but even rectifying bridges and many other types.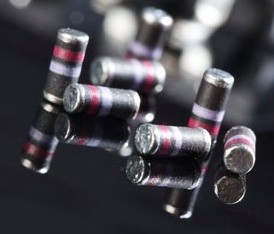 Schottky diodes naturally provide lower losses thanks to a lower forward voltage, that´s why their usage is mainly in place in applications with relatively higher currents. In general it´s also valid, that a small SMT package can significantly eliminate the radiation of EMI in switch-mode power supplies (thanks to a minimal parasitic inductance), what can be one of factors, whether a given device will meet EMI regulations or not.
Advantages/ Features of Diotec diodes:
producer specialized on development and production of diodes

excellent specification

small dimensions

high power

low losses

reliability
Do not miss these articles
Do you like our articles? Do not miss any of them! You do not have to worry about anything, we will arrange delivery to you.