Gas soldering tool DREMEL 2000 VersaTip now with a gift!
Multifunctional gas soldering tool will help you at many various applications like: soldering, melting, hot-cutting, welding and woodburning (pyrography)...
This quality gas soldering tool provides a freedom of usage for example outdoor and everywhere where no electricity is available. But DREMEL 2000 VersaTip isn´t only a gas soldering tool with adjustable temperature. It is a multifunctional tool, which you can use, thanks to 6 exchangeable tips, for technical and also creative works like: soldering, melting, hot-cutting, welding and woodburning (pyrography), bending of metals, application of heat shrinkable insulations, releasing of junctions locked by an anaerobic sealant (bearings and screws) and many other.
DREMEL VersaTip can be easily and quickly refilled by a widely available liquid butane (the same as used in lighters) and it has a safety lock mechanism against an accidental turn-on. Detailed description will provide you the VersaTip Instruction Manual.

The multifunctional gas soldering tool VersaTip 2000JA can be gained with a free gift now - with the 12in1 multitool - it is only necessary to order item no. 131739.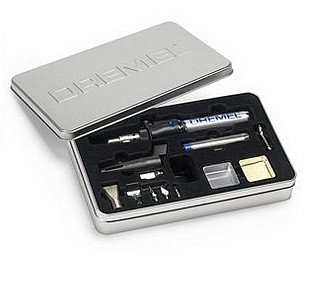 Contents
DREMEL® VersaTip
Soldering Tip
Cutting Knife
Hot Knife
Flat Wide Flame Head
Reflector
Hot Blower Head
Soldering Tin with Blue Cap
Soldering Sponge + sponge box
Wrenches: 1 x 7 mm, 1 x 8 mm
Technical specification
Weight: 0,135 kg
Ignition: Piezo
Burn time: 30-60 min
In case of interest, please contact us at info@soselectronic.com.


Videos
One tool for 6 different applications: soldering, melting, hot cutting, welding, shrinking and woodburning (pyrography) Always ready to use Use anywhere anytime Allows for detailed and intricate work Long lifetime
Advantages / Features:
Multifunctional tool, 6 various tips
Always ready to use
Use anywhere anytime
Very quick heat-up
Allows for detailed and intricate work
Long lifetime
Safety lock mechanism against accidental turn-on
Liquid buthane filled