New intelligent display eDIPTFT32 from Electronic Assembly will display all what you will command it. It is like a good servant, understands commands, doesn't need details, switches on immediately, isn't power demanding and understands up to three languages.
This is an archive article published 09/06/2011. Some information may no longer be up to date and in line with the current state. Please contact us in case of interest.
New display eliminates a need of demanding and time-consuming programming at pixels level.
Display eDIPTFT32 represents a world novelty in its class. High quality TFT display with brightness of 500-700 cd/m2, with 320x240 dots and a LED backlight, is, thanks to a built in intelligent driver, able to display text, graphics, various bar graphs and many other only by means of commands. That is way, where is no need for demanding and time-consuming programming at pixels level, thus substantially simplifying and accelerating development of graphic interface for a new device. Display is delivered with many predefined functions – 8 fonts scalable as required from 2 to 80mm and with a possibility to rotate in 90° steps. Further it contains graphic symbols and geometric functions, bar graphs, frames and many other. Position of text and graphics can be set with a pixel accuracy. Thanks to inner 4MB memory, it is possible to add many other symbols and fonts, pictures, animations and macros. To define such functions you can use freely available editor/ compiler "LCD Tools for Windows". It is also possible to easily visualize analog instruments. For this purpose, display contains 2 analog inputs with a 10 bit AD converter.
eDIPTFT32 contains also 3 communication interfaces – RS232, I2C and SPI, that is why it can be connected to virtually any device. To versatility of use, also contributes a possibility to supply from 3.3v or also a 5V source, at consumption under 1W. Display backlight is dimmable by software from 0 to 100%. Display can be ordered with or without a resistive touch panel, controller is already built-in in the TFT module. Touch panel enables to use graphic controls ("buttons"). Thanks to a possibility to use macros, it is possible to change the displayed content thus creating various menu. Up to 40 buttons, switches, or bar graphs can be defined and changed by software. Thanks to 8 input and 8 output ports it is possible to connect external keyboard up to 8x8 matrix.
The module is mechanically designed for a maximum space usage and optimal viewing area. Assembly to PCB is very simple, by means of a pin header on the bottom side, without screws, distance pads or cables – only insert into PCB and solder in place. Also available - mounting bezel, development USB kit, interface expander, socket 1x20 as well as a "Starter kit". Further information offers also a product flyer and a eDIPTFT32 datasheet.

If you need a display with similar features, but with bigger resolution, company Electronic Assembly produces also a 4,3" eDIPTFT43, which we have in our offer together with accessories, as well as Starter kit.

In case of interest about Electronic Assembly products, please contact us at info@soselectronic.com.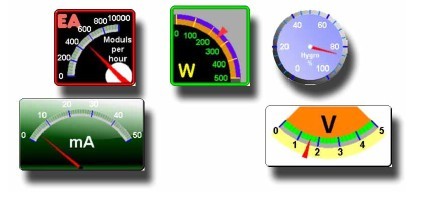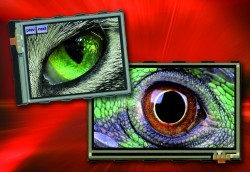 Advantages/properties:
intelligent 3,2" TFT display module

320x240 dots, 65536 colors

extremely simple implementation into a device

controlling on the level of commands – without necessity to work at pixels level

no PC or embedded system required

full function right after start

RS232, I2C and SPI interface

many predefined scalable fonts (2-80mm), graphic symbols, bar graphs, ...

4 MB RAM for user defined fonts, symbols, macros, pictures or animations

optional touch panel with a variable raster

digital I/O ports for connecting up to 8x8 matrix keyboard

2 analog inputs with a 10 bit resolution

LED backlight, dimmable between 0-100%

power consumption under 1W

enhanced temperature range -20° to +70°C
Do not miss these articles
Do you like our articles? Do not miss any of them! You do not have to worry about anything, we will arrange delivery to you.