New intelligent display eDIPTFT70 from Electronic Assembly provides all what its smaller relatives and something in addition – the size.
This is an archive article published 09/26/2012. Some information may no longer be up to date and in line with the current state. Please contact us in case of interest.
With the 7" size and an 800 x 480 pixels resolution, it can display a relatively considerable amount of information. Similarly like other member of family eDIP (eDIPTFT32 a eDIPTFT43), even eDIPTFT70 eliminates the need of demanding and time-consuming programming at pixels level. All the control of the display is done on commands level, thus to display text, graphics and many other symbols is exceptionally easy and simple. Control by commands substantially accelerates development and shortens the time to market. At an application development it is possible to use predefined functions, symbols and geometric functions, bargraphs, frames, buttons and many other. In general eDIPTFT70 offers almost the same functions like other eDIPTFT family members, including almost immediate start within a few 1/10 of second.
Single +5V supply, analogue touch panel with a variable raster and software-dimmable backlight brightness contribute to the versatility of usage. In many of applications also 80 various short jingles for audio feedback can be useful. Even eDIPTFT70 contains 3 communication interfaces – RS232, I2C and SPI, that´s why it can be connected to virtually any device. Further information will provide you the eDIPTFT70 datasheet.

In case of interest in Electronic Assembly products, please contact us at info@soselectronic.com.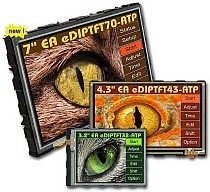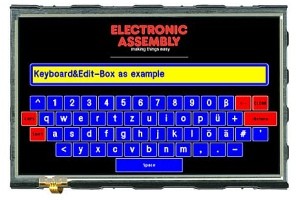 Advantages / Features:
intelligent 7" TFT display module

800x480 dots, 65536 colors

extremely simple implementation into a device

controlling on the level of commands – without necessity to work at pixels level

no PC or embedded system required

full function almost right after start

RS232, I2C and SPI interface

many predefined scalable fonts, graphic symbols, bargraphs,...

4 MB RAM for user defined fonts, symbols, macros, pictures or animations

optional touch panel with a variable raster

digital I/O ports and 2 analogue inputs

LED backlight, software dimmable

power consumption approx. 3.5W

enhanced temperature range -20° to +70°C
Do not miss these articles
Do you like our articles? Do not miss any of them! You do not have to worry about anything, we will arrange delivery to you.