The EA ELR9000 family of electronic loads with energy recovery solves this problem and whats more – saves energy.
This is an archive article published 12/22/2015. Some information may no longer be up to date and in line with the current state. Please contact us in case of interest.
Many electronic loads available today are based on a very simple principle – they convert DC energy to heat, which is inefficient and requires a well-designed cooling system.
On the opposite side - the new series of electronic DC loads with energy recovery to mains, called EA-ELR 9000, offers new voltage, current and power ratings for a multitude of applications.
These devices incorporate the four common regulation modes:
● constant voltage
● constant current
● constant power
● constant resistance
The FPGA based control circuit provides additional features, such as a function generator, a table based regulation circuit for the simulation of non-linear internal resistances. The energy recovery function converts the supplied DC energy into a synchronous sine current and feeds it back into the local grid. This eliminates the usual heat dissipation to a minimum and saves energy costs at the same time. The large colour 4.3" TFT touch panel offers a different and intuitive kind of manual operation, compared to other devices. Response times for the control via analog or digital interfaces have been improved by the DSP controlled hardware. In parallel operation of multiple devices, a master-slave bus is used to connect the units to a bigger system where the actual values are totalled and the set values distributed.
Why to recover energy?
The most important feature of these electronic loads is that the AC input, i.e. grid connection, is also used as output for the recovery of the supplied DC energy, which will be converted with an efficiency of approximately 93%. This way of energy recovery helps to lower energy costs and what is more important, avoids expensive cooling systems, such as they are required for conventional electronic loads without energy recovery and convert the DC input energy into heat.
Upon request, we´re able to provide you with any product of company
Elektro Automatik
. In case of interest, please contact us at
sales@soselectronic.com
.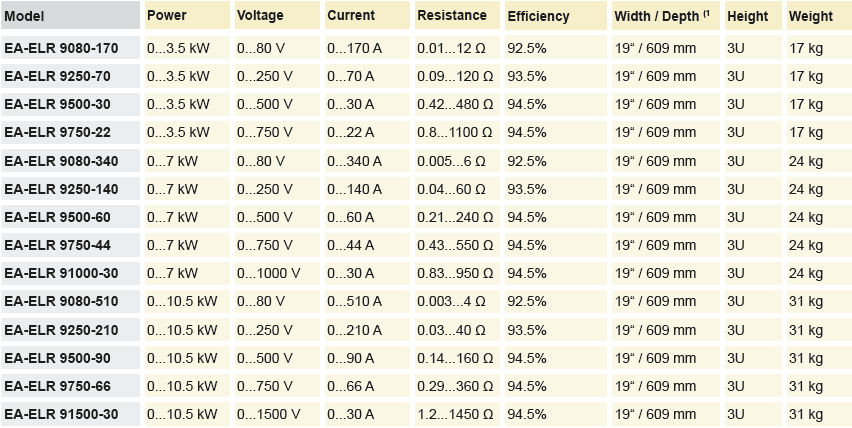 Main features:
For 1-, 2- or 3-phase supply

Energy recovery of the supplied DC energy into the local grid

Galvanically isolated DC input

Input power ratings up to 10.5 kW per unit

Expandable to 105 kW or more

Input voltages up to 1500 V

Input currents up to 510 A per unit

FPGA/DSP based digital control

Multilingual TFT touch panel

User profiles, true function generator

Master-slave bus for parallel connection

Extra USB port on the front for USB stick

Optional, digital, plug & play interfaces or alternatively installed IEEE/GPIB port

SCPI command language supported

Optional automatic isolation unit
Do not miss these articles
Do you like our articles? Do not miss any of them! You do not have to worry about anything, we will arrange delivery to you.