For us, technicians, a reliable measuring device is a must-have. A quality multimeter saves time, and FLUKE is a TOP choice.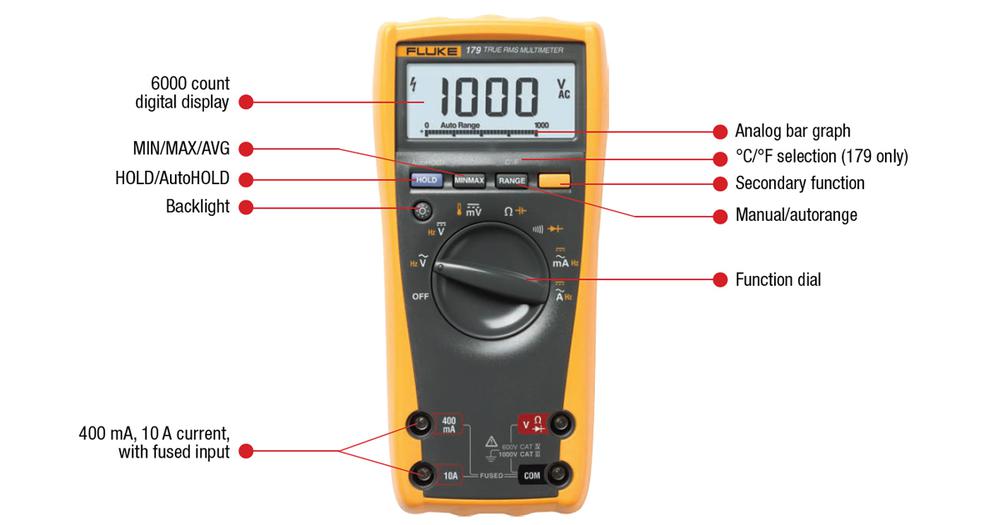 I´m sure we all have already experienced a situation where a quality product saved us a lot of time and energy, whether it was an ordinary screwdriver, a wrench, quality pliers or a measuring device.
  The American company FLUKE, a manufacturer of multimeters, which is well known especially among professionals, focuses on high quality.
How do you recognise a quality multimeter? It should meet the following criteria:
Safety class - at least CAT III/600V, in better case CAT III/1000V, ideally CAT IV/600V.
Even if you only measure a relatively low voltage supply of 230-240Vac, you never know what overvoltage may occur. Therefore, a quality measuring device should meet at least safety class CAT III/600V, of course, depending on the equipment and the environment in which you measure.
In general, however, the more demanding the measurement environment, the higher the safety class we choose.
Quality of test leads - at first glance, an unnecessary and often a difficult-to-access parameter. 
However, the cords of branded professional instruments are made of highly durable materials, with a highly flexible core and ergonomic measuring tips, which prevent dangerous unwanted contact with energised parts.
Inner design with an emphasis on reliability and safety and, for example, with sufficiently dimensioned fuses with high breaking capacity.
The device's resistance to electrical damage, e.g., if you select the wrong measuring range or quantity. Unfortunately, you will not find out about this parameter until it is too late. In practice, indeed, top brands usually pay attention to this durability as well.
Measurement speed or a number of measurements per second. It is usually 3-5 measurement/s, specialised devices also with a significantly higher measurement frequency. A convenient addition is a linear bargraph, which should be fast enough to inform you about rapid changes in the measured quantity realistically - e.g., when measuring unstable voltage or current. 
Measurement accuracy - one of the basic parameters, which in common measuring instruments for measuring DC voltage ranges from about 1% to 0.1%. Precise laboratory and calibration devices also achieve significantly higher accuracy, e.g., 0.01%. 
TRMS (TrueRMS) - The true effective value of AC voltage or current. A handy feature, significantly improving the accuracy of voltage or current measurements if they do not have a precise sinusoidal course. In practice, a very common case for switching power supplies and the like. 
Drop resistance - this can always be useful as we all sometimes make mistakes. Many professional devices have guaranteed resistance to falling from a height, for example, 2m. 
USB connectivity. Today, it is no longer rare for the multimeter to be connectable to a PC via a USB/RS232 interface to transmit the measured data. In many cases, this makes it possible to perform automated measurements, e.g., at selected time intervals.
Ability to work even in an interference environment. In an industrial environment with equipment and motors with very high-power consumption - e.g., frequency converters, etc., cheap multimeters would display random values due to induced currents.
Consumption of the device itself in normal operation aka battery life - again a parameter that is not usually available to the user. But even here, it is true that quality devices are traditionally designed with regard to the lowest possible consumption. 
Dust and water resistance - if we consider the use of measuring instruments in a demanding industrial environment. 
Ergonomics and overall intuitiveness of operation - you will work well with the device, and you will be happy to use all its functions only if its operation is understandable. The instructions can be very helpful in this.
High-quality measuring devices by FLUKE
FLUKE 287 and FLUKE289 multimeters are very good examples of professiional measuring devices by FLUKE.
The range of these multimeters' measured capacities will measure capacitors up to 100mF - which is not common with other manufacturers. These multimeters have up to a 4.5-digit display (max. reading 50,000) and achieve high measuring accuracy of up to 0.025% for VDC and 0.05% for current measurement. Measurement of voltage (up to 1000V), current (up to 10A), temperature, resistance and short circuit is a matter of course. It is worth mentioning that these measuring devices are so-called data-logging able to record the course of individual quantities and display it in graphs.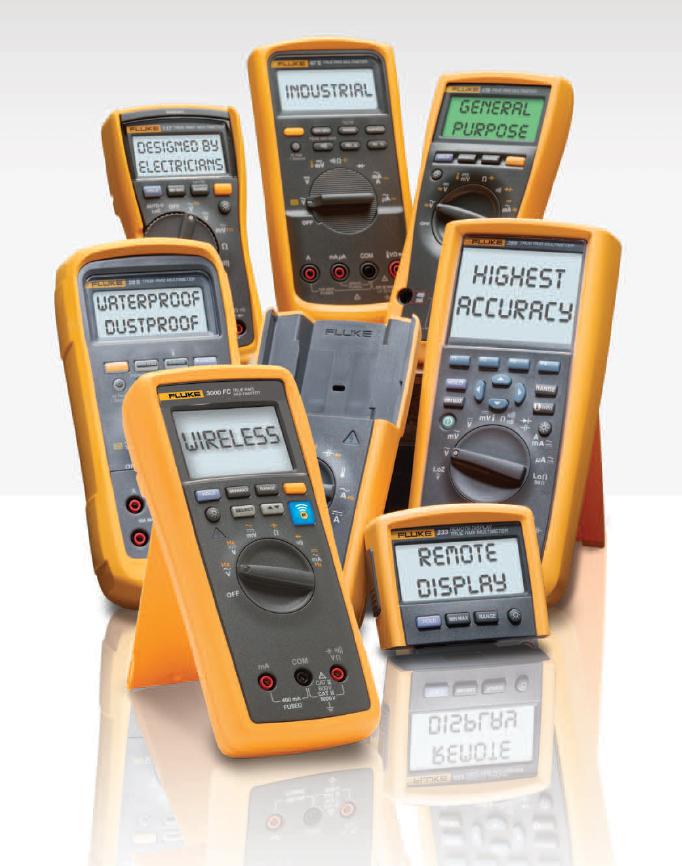 Suppose you do not need a measuring device for the most precise or "laboratory" measurements. In that case, FLUKE can also offer other professional, also high-quality but more affordable multimeters for universal use. See, e.g.,
FLUKE 17x
series or
FLUKE11x
series.
In addition to basic features such as ergonomic design, backlit display, analogue bar graph, and TRMS or one-handed operation (110 series), you can also count on many of the criteria mentioned above for quality multimeters.
Brochures with an excellent overview will help you quickly orient yourself in the range of FLUKE multimeters (in English):
Other high-quality multimeters
In addition to the FLUKE brand, you will also find a quality multimeter for less demanding use among Uni-Trend, Voltcraft and FLIR products. However, a top multimeter can make your work more efficient in every respect. You can read more, e.g., also in our next article on this topic.
If you need more information about FLUKE products, or you want to help choose a quality multimeter, do not hesitate to contact us at sales@soselectronic.com. We will be happy to help.
Do not miss these articles
Do you like our articles? Do not miss any of them! You do not have to worry about anything, we will arrange delivery to you.