RGB printing is a practical and ready-to-use solution directly from the manufacturer. Hammond can modify and now make a full-colour digital printing on the enclosures to meet your needs.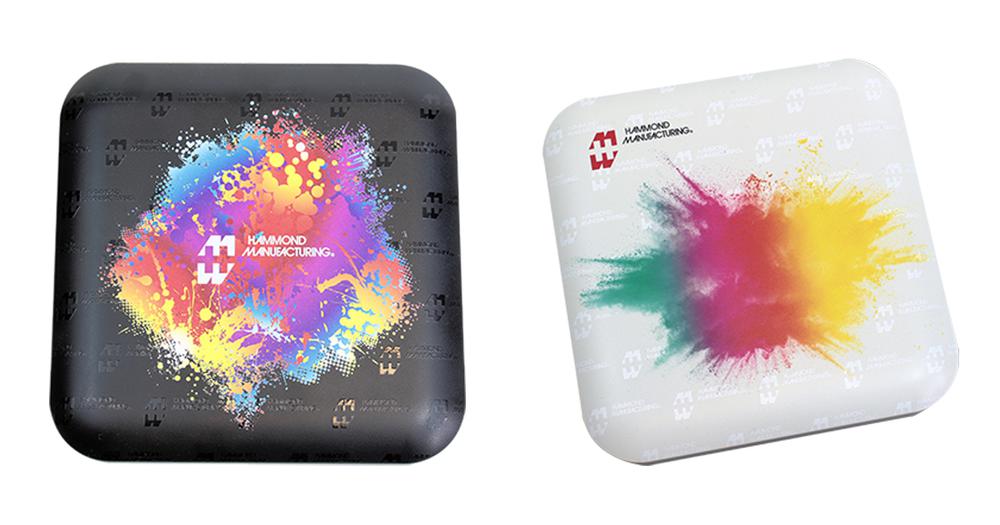 Hammond, a renowned manufacturer of quality enclosures for your electronic devices, is well known for its pro-customer approach and ability to modify enclosures such as drilling, milling, installation of accessories and many other custom requirements.
Now they're coming with yet another practical benefit - full-colour printing of graphics on electronic enclosures in digital quality precisely according to your ideas. Thanks to the UV digital printer, Hammond can enhance your product with eye-catching graphics, designs, symbols and logos in top quality.
Their new high-tech UV digital printer has eight positions ("colours") - the traditional four colour CMYK inks and clear, two whites and a primer are used to achieve an impressive array of finishes.
The primer ink, applied selectively to the enclosure's required areas, provides excellent sharp results with smooth and textured finishes.

The maximum print size is 610 x 420 mm, so, for example, UV printing on a front panel with a diagonal of 9U 19" is no problem at all. The machine can accept objects up to 153 mm high, so printing on the sides and the lids of enclosures is achievable, as is printing to the edges of curved surfaces.
The clear ink allows selected areas or the entire surface to be finished with a high gloss, matte or embossed finish, greatly expanding the creative options for logos, backgrounds and legends. An embedded library of 129 different texture effects means that the design possibilities are almost endless.
Hammond can do the entire job for you - from milling, drilling and other custom modifications to top-quality printing. The price for printing is individual and depends on several factors, so do not hesitate to send us your requirements, and we will gladly check the price offer for you.
If you need more information about quality Hammond electronic enclosures or need advice, do not hesitate to contact us at sales@soselectronic.com. We are glad to help.

Do not miss these articles
Do you like our articles? Do not miss any of them! You do not have to worry about anything, we will arrange delivery to you.