It´s possible to receive the latest technical and safety datasheets of Kontakt Chemie products comfortably into your e-mail box.
This is an archive article published 08/09/2013. Some information may no longer be up to date and in line with the current state. Please contact us in case of interest.
As chemical agents belong to a highly regulated segment (on-going REACH) process), it´s necessary that you always had the actual version of technical- and mainly safety datasheets for agents which you use. Especially for larger companies using a many chemical agents it´s a considerable load - to watch legislative changes and to search for the latest version of documents.

That´s why company CRC - producer of Kontakt Chemie sprays, brings a useful and free service "My CRC". By means of "My CRC" the end user has ensured the 100% latest documentation in case of legislative changes as is the hazard classification or changes of European law. These changes don´t affect the product production or its availability but the actual documentation version is vital from reason of possible criminal responsibility.
After a simple registration on the http://www.crcind.com/crc/ - website - by clicking on the "My CRC" logo, you´ll receive an e-mail with login. In the next step after signing-in (by clicking on the "My CRC" logo) select a language for required documents - in the left bottom part of page. In the upper portion of the website you can select a country and language for work on this web. If the given country is missing, we recommend you to choose "Others/ English". The documents are in the alphabetical order and you can check the column in the right at every document, which you´re interested in. Finally, after clicking the "My selection" button, it´s possible to choose whether you wish to receive on your e-mail these documents (immediate e-mail with links to these documents) or you wish to receive only changes/ updates of these documents (if occur in the future).
We believe, that this function will make your work more pleasant and easier. In case of questions, please contact us at info@soselectronic.com.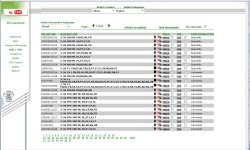 Do not miss these articles
Do you like our articles? Do not miss any of them! You do not have to worry about anything, we will arrange delivery to you.