From the developer's experience: Did you know that Neutrik audio connectors can also be used in the data and signal transmission industry? Thanks to the high-quality design, the lifetime of more than 1000 connections and accessories, you will get a functional and attractive solution for your device. (reading for 3 min)
In this article, you will learn how to select suitable data connectors and solve the problem of interconnecting individual elements of the device so that not only the functional but also the design requirements of the device are met. Neutrik has prepared two options of a complete solution with XLR connectors which are personally recommended by František Ďuríšek, a product specialist at SOS electronic.

Main advantages of Neutrik XLR connectors:
reliable robust construction, a lifetime of more than 1000 connections
power transmission up to 50V/10A and data via a differential line with one connector
rich accessories - various types of color resolution on the side of the cable and enclosure, as well as frames and covers
Choice of the connector with IP65 protection
How to solve the connection of two devices to meet the functional and design requirements of the application?
You will surely agree with me that one of the key points in the design of the device is to find a suitable solution for connecting the inner world in an enclosure with the outside world.
As a developer, I often had a hard time finding the optimal solution for the projects I was working on. It happened to me that in a huge number of connectors I simply could not find the right solution I needed. 
During many years of practice, the solution with XLR connectors from Neutrik has surprisingly proved to be the best choice. This manufacturer is known mainly in audio technology, but thanks to the many advantages of their products, as well as rich and practical accessories, Neutrik connectors can also be used in lighting technology and various areas of industries. 
Example of using Neutrik XLR connectors to connect devices in practice
To make it simple, I will explain the possibilities of using Neutrik XLR connectors on a simple and common example. 
In the following application, I want to transfer power and data using one connector, ideally with a long lifetime due to the requirements of the device. The Neutrik 4-pin XLR connector is ideal for this case. I will use 2 pins as power supply, the connector body as shielding and the remaining 2 pins for data transmission. If I use twisted pair, I can communicate via CAN or RS485 bus, or without twisted pair, I communicate in duplex via RS232. 
Apart from the functional side, however, I need to find a comprehensive solution while taking a simple and practical operation or subsequent service into consideration, and I must not forget the overall look of the connection in the device. 
Solution No. 1: Connector up to 10 A and 50 V
And thus, when I need to transfer current up to 10 A at a voltage up to 50 V, I can choose the NC4MD-LX connector. I will also choose a rubber frame SCDP-0, which also seals. Spacer rings are also part of this frame, preventing it from being deformed when tightening the screws. Since this connector has solder contacts on the cable, I will use an SCDR cover to cover them.

I will use the NC4FXX connector as a suitable counterpart to the cable and the XXCR distinguishing ring for practical marking, under which I can even add my own inscription.
In case I want to use more connectors for the device, I can distinguish them with a color distinguishing ring, for example, XXR-2 in red or XXR-6 in blue, or with one of the other 8 colors.

The resulting connection then looks like this. Not only does it meet all the functional requirements of the device, but it also really looks attractive. By using connectors and practical accessories from one manufacturer, I will not only get a complete solution, but I will also save a lot of time and money during further development.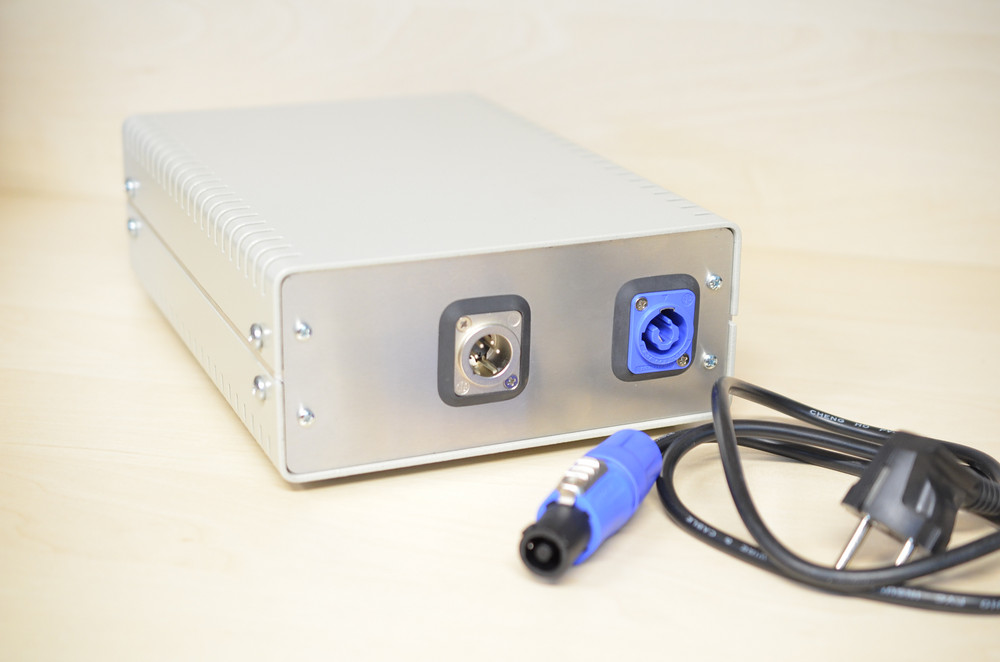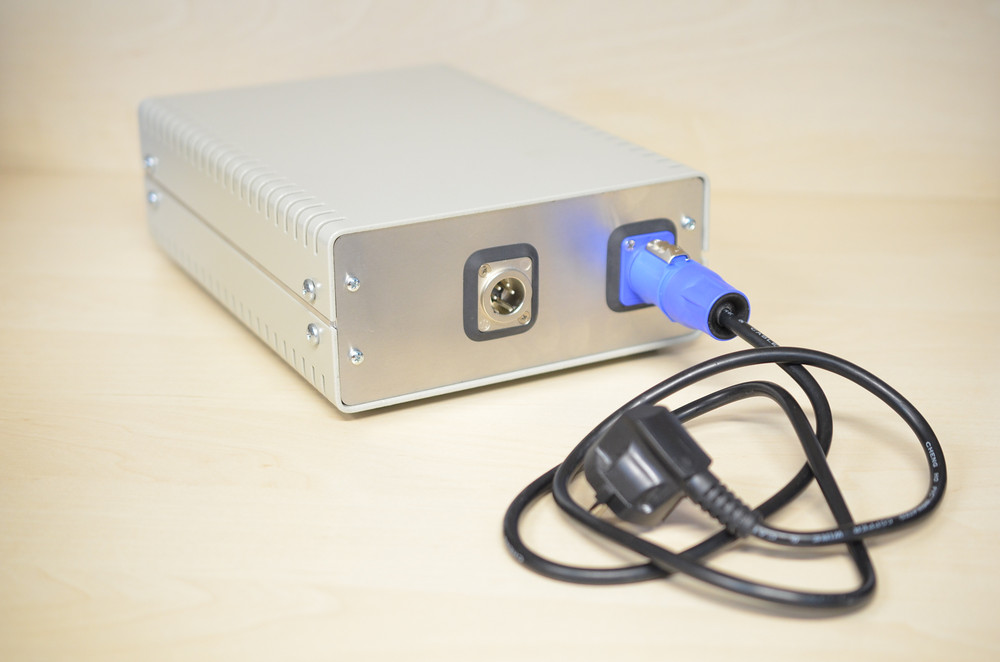 Solution No.2: Connector soldered to PCB and current up to 6A
If the connector is soldered directly to the printed circuit board and at the same time a current of up to 6A is enough for me in the device, the Neutrik NC4MAH connector could be a suitable solution. In this case, I can either use e.g. red distinguishing ring for ACRM-2 plugs or blue variant ACRM-6, or one of the other colors as a design element or as the color differentiation between several connectors. However, depending on the need and the chosen solution, I will definitely use the fixing screws A-SCREW-1-8, which have a special thread and are then very difficult to find. 

Optional accessories for protection against dust or water
If I occasionally connect a cable to the connector, as it is in the case of a diagnostic connector, I use dustproof or even waterproof caps. The manufacturer produces them in different designs and with different ratings of protection, such as SCD-W, SCDM, SCCD-W.

If the connectors in the device also require increased IP65 protection, then I recommend the NC5MDX-TOP (True outdoor protection) connector type. Such connectors are produced by Neutrik in 3- and 5-pin versions.

The resulting connection in the case of a connector soldered to a printed circuit board then looks as follows.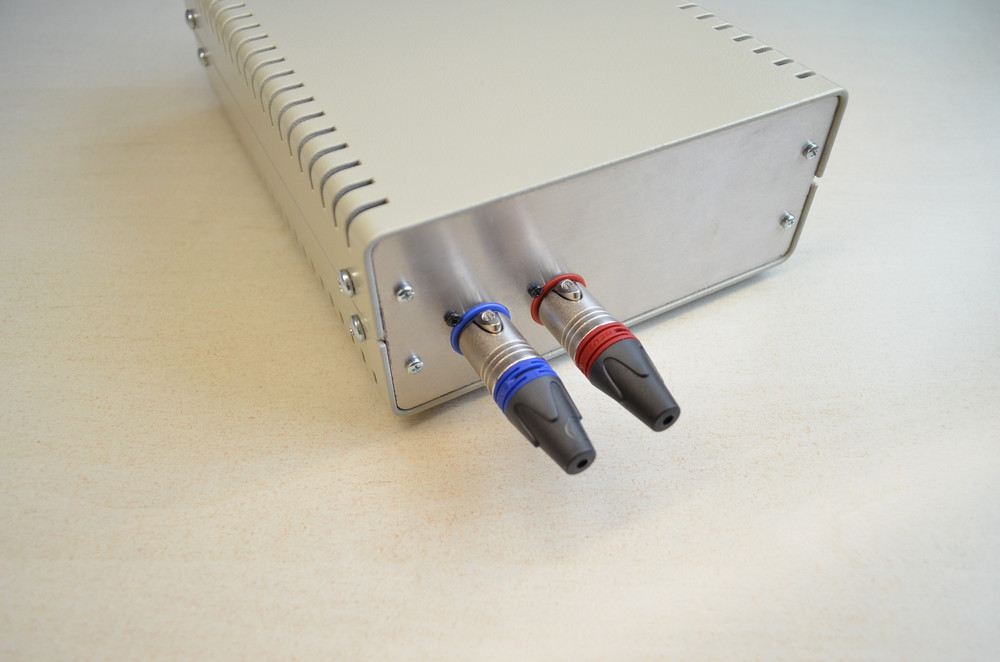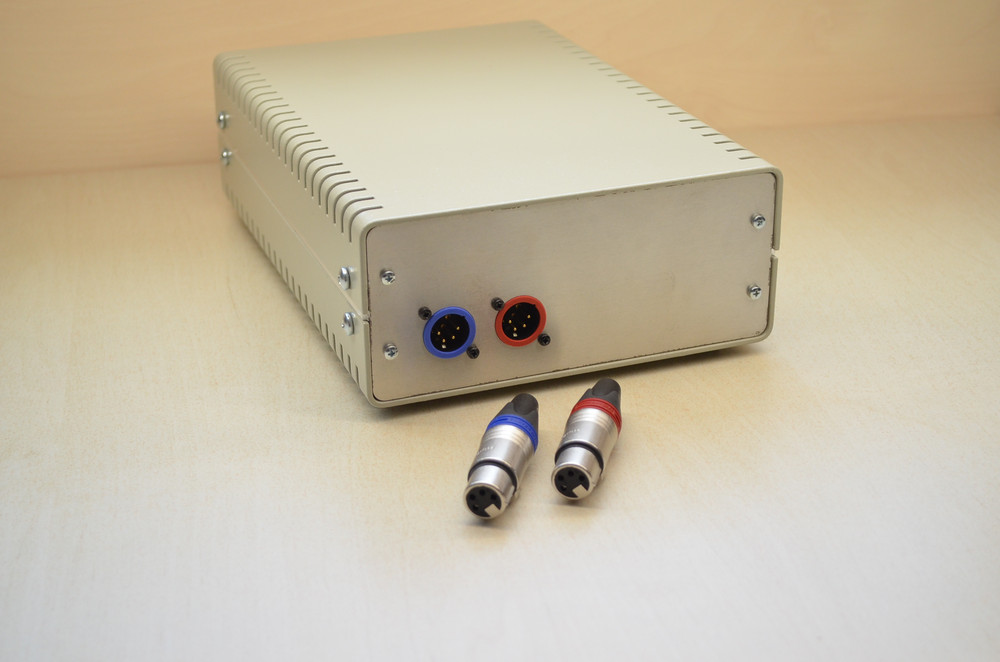 Selection of a suitable connecting cable 
Another important part of any solution is to find a suitable connection cable, which can be even more difficult than finding a suitable connector. 
For my application, I need a combined cable made of a twisted pair cable with a small cross-section with a characteristic impedance of 120 Ohm for data transmission; for energy transmission, I need a twisted pair cable with a larger copper cross-section. It is advantageous if the entire cable is shielded. 
A suitable solution could be, for example, a 4-core multi-pair cable 3082A T5U500 from Belden or 0030937 from LAPP. For smaller currents, I can use a 4-core cable LIYCY 2x2x0,34 mm2 with two twisted-pair cables, which also comes from LAPP.
Neutrik product range - a combination of functionality and attractive design
As I mentioned at the beginning of this article, a reliable connector plays a key role in a device. Neutrik XLR connectors can be reliably used for power and data transmission in the industry, as they have several advantages over other brands. I can mention for example the robust construction and the lifetime of more than 1000 connections. Moreover, in the Neutrik range, you will find a complete solution for connecting devices in an industrial environment.
With connectors and a wide range of accessories from one manufacturer, you not only get a fully functional and attractive connection for your device, but you also save time and money during development. 
We have a wide range of Neutrik products available on our website.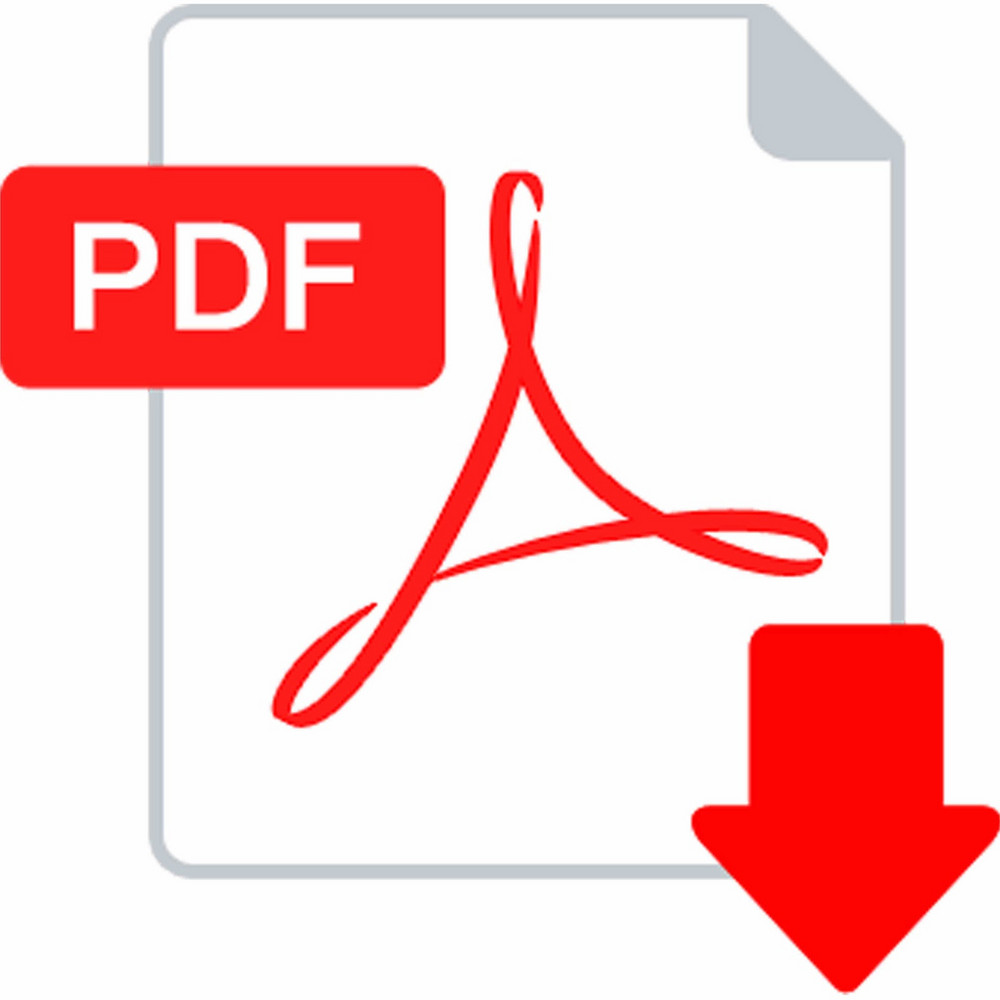 Finally, see the list of components we used to make the demo connection with Neutrik connectors.

Are you interested in more information about Neutrik products or technical advice on product selection? 
Or do you have another question or request? Fill in the following form, we will be happy to help you.
PDF Documents
Do not miss these articles
Do you like our articles? Do not miss any of them! You do not have to worry about anything, we will arrange delivery to you.