Series NAC3 from company Neutrik represents robust 3-pole connectors providing fast and secure connections up to 20A/250V AC.
This is an archive article published 01/11/2013. Some information may no longer be up to date and in line with the current state. Please contact us in case of interest.
Company Neutrik belongs to world leaders in the field of audio, video, power-supply and other connectors. Neutrik connectors can be often found in professional audiovisual devices, PA instruments and other devices, where a quality and durable connector are necessity. Precise construction and high-quality materials are a common feature of all Neutrik products.
Power-supply connectors of the powerCON - NAC3 series represent robust and reliable 3-pole connectors (L, N, PE) for cables and panels. Thanks to a fast and safe connection is the NAC3 series very suitable for applications with requirement for frequent connecting and disconnecting of several devices. Perhaps the biggest advantage of the NAC3 series is, that it features a fast and easy-to-control locking system (twist and lock). It means, that connectors cannot be disengaged by an accidental pulling of cable or by vibrations. The system consists of 2 versions - blue for supplying of a device (power-in, NAC3FCA and NAC3MPA) and grey for power-out (NAC3FCB and NAC3MP8). Connectors are naturally constructed in the way, that connection of blue and grey version is impossible.
If you´d face the situation, that you need a longer cable, you can use the NAC3MM-1 coupler enabling to connect 2 cables (NAC3FCA to NAC3FCB). Rear part of connectors provides excellent cable retention, for cables of 6-15 mm in diameter. At the connector assembly, it is necessary to choose a white or a black chuck depending on the cable diameter ( 6-11/9,5-15mm).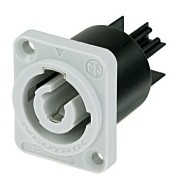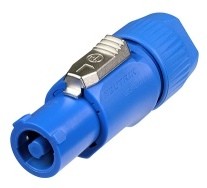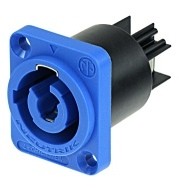 NAC3 series connectors are certified as connectors without breaking capacity (IEC 61984/ VDE 0627). According to this standard, NAC3 are the connectors which in normal use are not to be engaged or disengaged when under load or live. Detailed information will provide you the overview of Neutrik circular connectors and the assembly instruction.

In case of interest, please contact us at info@soselectronic.com.
Advantages / Features:
robust and reliable power supply connectors

fast and safe locking system

3 poles (L, N, PE),

20A/250V AC

2 versions for power-in and power-out with different keying
Do not miss these articles
Do you like our articles? Do not miss any of them! You do not have to worry about anything, we will arrange delivery to you.