We got inspired by your ideas and we developed it all over again from scratch using the latest technologies. What is new and how will the new web make your work easier?
This is an archive article published 06/24/2016. Some information may no longer be up to date and in line with the current state. Please contact us in case of interest.
1. Login details for a contact person, not a company
In comparison with the original web, the
way of signing in to the e-shop
is really
revolutionary
. Until now, all the people from one company could use just one and the same login details, registered for the company. The problem arised when more people from the company wanted to make an order at the same time. Therefore, based on your feedback, we changed this feature on our new web.
Login details are now registered for a particular person in company, while the company may have more of such people and accounts.
Thus, any person in the company can have their own login details with their own shopping cart while the orders and invoices will be registered for the company (every person sees the orders of their colleagues in the history).
We wanted to preserve certain continuity and therefore the login details from the original e-shop were transferred to one selected person. Thus it will still be possible to log in with the original details.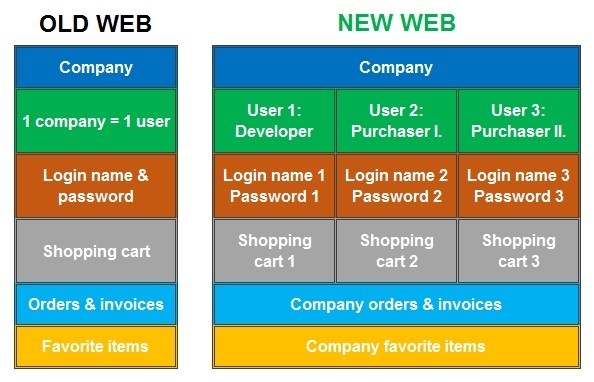 2. You don't need to remember your customer number anymore
Username doesn't have to be only your customer number anymore. It can be any word; however, it can be used in our system only once. During the migration to the new site, we kept the original usernames (customer numbers). However, these can be subsequently changed.
3. Speed – information in real time
We understand that correct and quickly available information is the most important thing in today's world. You certainly need to know the information about, for example stock inventory. Our system has worked in doses till now and even though we tried to lower the actualization frequency of sensitive information, it was not always sufficient.
New web is based on the
actualization in real time
. That means that any change regarding the number of items in our stock will be reflected on web immediately. Your orders are also accepted in real time, not in regular doses. Thanks to this, the situation when the product you wanted to buy has been sold out while you were creating and sending the order, will no longer happen.
4. Flexibility – customize our web
You are in the first place. Why should we define what parameters are shown when filtering and in what order? Or for example, which columns and in what order are shown in the list of products?
Arrange them yourself
(you can use for example "drag and drop" function) and web will remember them next time.
5. Responsive design – easy to use on any device

It now goes without saying that webs and eshops are accessed via mobile phones or tablets. Doesn't it make you mad when the website doesn't fit on the screen of the mobile phone, content is messy or unreadable?
We think that our web should adapt to you. We will gradually add elements of artificial intelligence to our web.
And there's more!
Even the controlling of the individual elements of our web will be customized. After all, mobile is handled differently (fingertip touch) than computer (mouse, keyboard).
6. New technologies – artificial intelligence?
We think that our web should adapt to you. We will gradually add elements of artificial intelligence to our web.
Our web will learn from you.
System will, for example remember which elements of parametric filtering you want to have active and how you want to arrange them. Or why should you have components that you're not really interested in because they begin with letter "A" in the first position of a specific list of goods? Our new web will try to get to know your priorities and customize its content accordingly.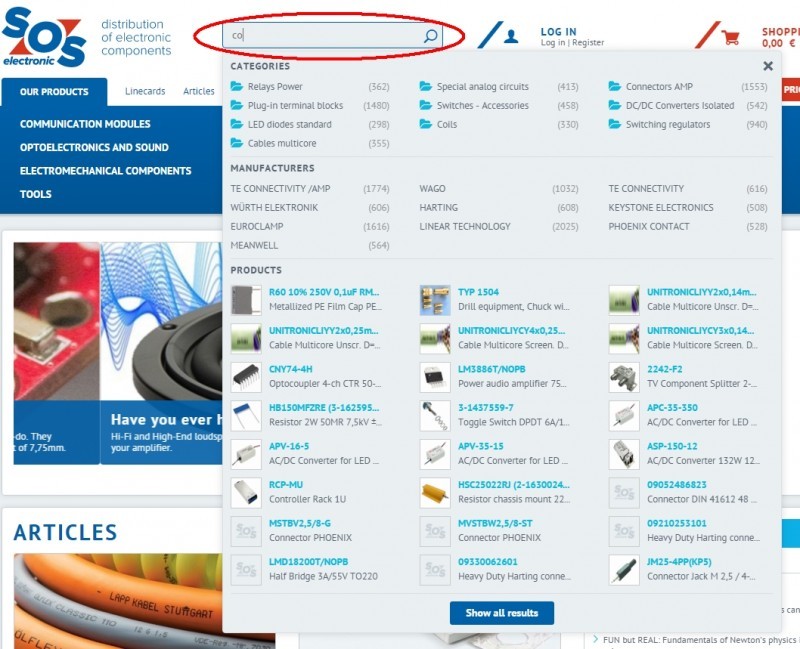 7. Complex, structured search with "autocomplete" function
Search is the future of the web. It is the fastest way to get to the required information. Here we also want to save your time that you could have been "losing" in case you had to re-search the information you couldn't find in the results. Therefore, we add "autocomplete" function to our search engine, which offers possible results as well as their amount in the individual categories. Search results are clearly structured.
8. Quick and intuitive work with products parameters
We have carefully listened to you and made the most improvements. We have added interesting tricks to the standard parametric filtering :-) For example:
arrangement of the parameters order using simple "drag & drop",
switching between active and inactive parameters,
actualization of the number of products with a particular parameter in real time

immediate actualization of the remaining parameters after selecting the concrete parameter (you will avoid "ticking" parameters that cannot be combined),
in the list of products, we have added columns with parameters values, whose order and display can be customized. That means simple comparison of products based on selected parameters,
products in list can be arranged in ascending or descending order based on the values of parameters.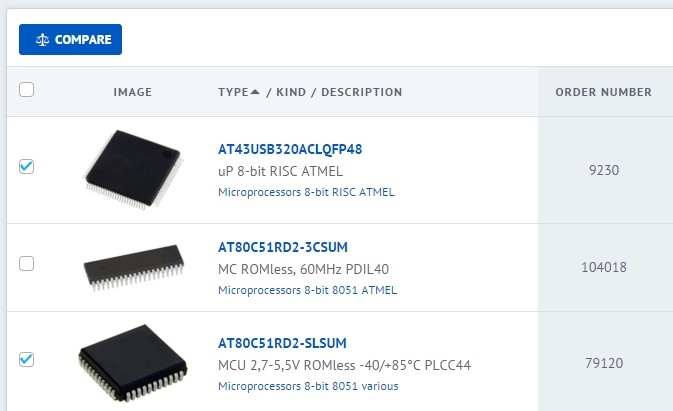 9. More transparent comparison of the selected products
We're adding one more useful function to the list of products – "compare". You can select particular products you want to compare from the list. Those are then displayed in a transparent table where you can easily compare in which parameters they differ.
Do not miss these articles
Do you like our articles? Do not miss any of them! You do not have to worry about anything, we will arrange delivery to you.