Series of the Osram Duris S5 white LEDs brings an excellent version for an excellent price, while maintaining a long lifetime and a high CRI.
This is an archive article published 11/14/2013. Some information may no longer be up to date and in line with the current state. Please contact us in case of interest.
Some members of the family of mid-power LEDs Osram Duris were introduced to you a year ago in the article A light without an end with OSRAM Duris E3 and E5 LEDs. So far, these basic series were available:

Duris E3 - white LEDs LED 3x1.4 mm with a max. current of 30 mA in a cost-effective plastic package. Suitable for general usage in lighting, mainly at construction of replacements of classic light sources (retrofits)

Duris E5 - white LEDs 5.6x3 mm with a max. current of 180 mA in a cost-effective plastic package. Suitable for general usage in lighting, mainly at construction of replacements of classic light sources (retrofits)

Duris P5 - white LEDs 2.6x2.2 mm with a max current of 200mA in a resistant ceramic package. Handles high temperatures, extremely resistant to corrosion, long lifetime. Suitable for professional usage in lighting, mainly at construction of powerful light sources with a long lifetime.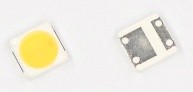 The latest increase of the
Duris
family is the S5 series, which so to say merges the best of the E5 and P5 series. In other words
Duris S5 represents a "golden middle way" between E5 and P5 and brings an excellent economical effectivity (low price), high light output and a very good lifetime
. S5 is produced in a small epoxy-based package (3x3mm) with very good thermal properties. what enabled to increase power of this series.
Duris S5
also brings another valuable feature -
high flexibility
, because a pinout is the same as in several competition products and mainly -
Duris S5 - thiase are three different types available in the same package:
:
GW PSL
PS1
.EC - with Uf=6,4V and a max. current of 240mA (chip area 1.00 mm2)
GW PSL
MS1
.EC - with Uf= 2,95V and a max. current of 240mA (chip area 0.50 mm2)
GW PSL
LS1
.EC - with Uf= 3,1V and a max. current of 160 mA (chip area 0.33 mm2)

Notice the double voltage at the type PSLPS1, what indicates, that inside it contains 2 LEDs connected in series and at the same time it mains practically double power in comparison to type MS1. Features of particular types are best illustrated in an attached table. It´s also worth to notice the value "binning current" and also columns "Typ. flux" and "Typ. efficacy", which display measured values at a given testing current. High efficacy up to 125lm/W at the type MS1 is reached at current of 65mA and serves mainly as a reference value for comparison with other LEDs from other producers, which are often tested just at such lower currents (even though in fact the type MS1 can handle up to 240 mA). In general it applies to all white LEDs, that they reach a higher efficacy at lower than maximum currents, mainly thanks to a lower chip temperature.
Into our standard stock offer we incorporated the most powerful type GW PSLPS1.EC in a warm white (3000K) and a cold white (5000K) version. Despite truly miniature dimensions, it is a considerably powerful LED with a max. power of >1W for a very affordable price. . Interesting and in praxis still more used is a possibility to use both types on a PCB (warm and cold white) and by means of a variable driving current we can change a resulting color temperature of a radiated light from warm to a cold white - according to a wish or a frame of mind of a user.

Further information will provide you the Duris S5 datasheet. It´s also a good news, that Osram promises to launch on the market a version with a min. 90 CRI.
In case of interest in any OSRAM LED diodes, please contact us at info@soselectronic.com.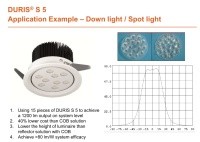 Advantages/ Features:
universal SMT LEDs for lighting (SSL)

high flexibility thanks to 3 different versions

high efficacy and an affordable price

high CRI (min. 80)

resistant epoxy-based package, max Tj up to 125°C

higher lifetime at higher temperatures and high currents

suitable for retrofits

compact dimensions 3x3 mm
Do not miss these articles
Do you like our articles? Do not miss any of them! You do not have to worry about anything, we will arrange delivery to you.
Gain the Duris S5 sample for free
Competition with the following question has been published here:
What´s the range of color temperature (CCT) in which the S5 series is available?
The correct answer was: 2700-6500K
We have drawn the following winners:
František BULKO [SK]
Jiri Rehorek [CZ]
Zsolt Kollar [HU]
Costea Tudorascu [RO]
Wolfgang Pichler [AT]
Congratulations to winners. We´ll inform them by e-mail.