LPWA Modules for the networks of the future
Low-speed IoT modules will cover most applications in the future.
The LTE networks take a second breath, they can be used for LPWA technology.
Reusing the LTE for NB-IoT takes advantage of the existing technology, as well as the installed system base.
It is possible to reuse the same hardware and share frequency spectrum by making NB IoT compatible with LTE, without running into coexistence conflict.


Advantages of LPWA networks:
1. Mobility (for Cat M1) - devices can be in motion

2. Voice over LTE (Cat M1) - possibility of voice transmission
3. Massive connection (Cat M1 and NB IoT) - It is ideal to have about 50,000 devices per cell (transmitter); this is possible assuming that the household density is 1500 households per square kilometer, and there are 40 devices in every household.
4. Low cost (Cat M1 and NB IoT) - it comprises two sub costs: the cost of mobile device + the cost of service. The end device is cheap because it uses half-duplex operation, single receiving/transmitting antenna, decreased peak rate, reduced device bandwidth as low as 180kHz for uplink and downlink, and has a low memory requirement.
5. Wide range, better coverage, indoor coverage (Cat M1 and NB IoT) - The target for the IoT connectivity link budget is an enhancement of 20dB. This coverage enhancement would typically be equivalent to the signal penetrating a wall or floor, enabling deeper indoor coverage.
6. Low power consumption (Cat M1 and NB IoT) - The industry aims are to achieve a minimum of 10 years of battery operation for simple daily connectivity with a small amount of data exchanged.
Main applications for LPWA are:
Smart home applications, metering, asset tracking, alarm systems, data collection, emergency rescue etc.
LPWA Modules Roadmap: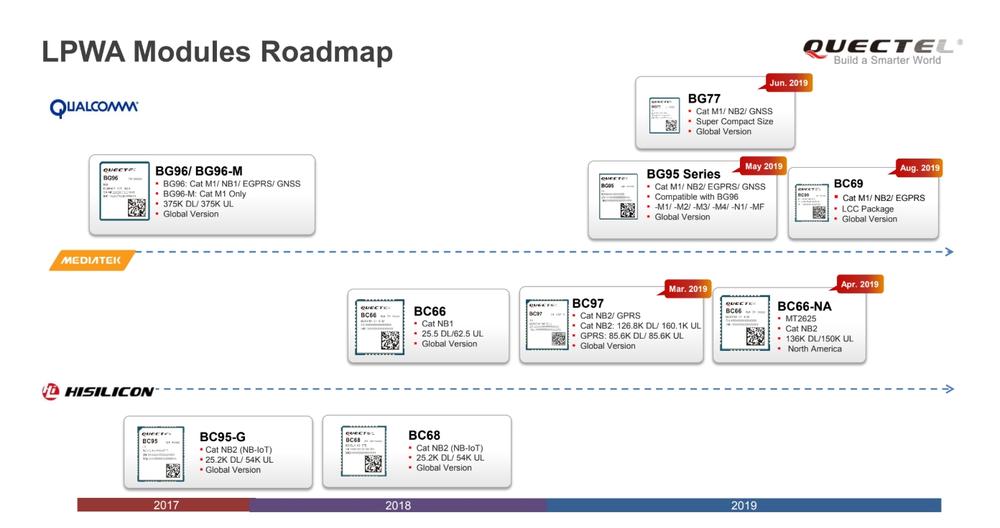 BG95, BG96, BC95-G, and BC97 are compatible with the following Quectel 2G/3G/4G modules:

- GSM/GPRS module M95
- UMTS/HSPA modules UG96/UG95
- LTE Cat 4/Cat 1 module EG95/EG91
BC69 / BC66 (-NA) / BC68 are compatible with the GSM/GPRS M66 Quectel 2G module.
Quectel LPWA modules will successively be available in our product range. We will keep you informed regarding their availability.
If you are interested in other Quectel products, or if you want to know more about this topic, please contact us at sales@soselectronic.com
Do not miss these articles