New GSM/GPRS/GPS/GNSS modules Quectel offer also special functions, able to make your product exquisite.
This is an archive article published 03/25/2014. Some information may no longer be up to date and in line with the current state. Please contact us in case of interest.
Development in the field of communication modules is fast and there are still more segments for their applications. That´s why company Quectel always comes with novelties or at least with enhanced versions of existing modules. This is also the case of two novelties M95EB and UC15.

Module M95 is certainly familiar to you from several our articles like for example Even the Vodafone confirmed quality and reliability of Quectel M95 GSM module. M95 belongs to a TOP in the segment and recently we announced you an eCall support. Meanwhile, this version came to a mass production and we can easily differentiate it by the "EB" suffix. New version M95EB also supports Dual SIM function (DSSS), what makes it extra reliable even for emergency systems and similar applications. A previous M95 as well as new M95EB are compatible and they will be on the market in parallel, that´s why company Quectel recommends to use the new version (EB) only for applications where you plan to use these new functions.
The second novelty is the UC15 module (UMTS/ HSDPA), which is similar to UC15 in many respects, but it´s smaller (29x29x2.5mm) and it has only 66 pins. The main difference is that UC15 doesn´t support GPS/ GNSS and it´s also somewhat slower (upload). UC15 is cheaper than UC20 and in many applications it can represent a very interesting alternative for a very attractive price.

A comprehensive description and comparison of Quectel modules can be found in the Quectel brochure as well as in the datasheets in particular types. Details about new functionality can be found in the documents GSM_eCall_Application_Notes and M95_Dual_SIM_Application_Notes.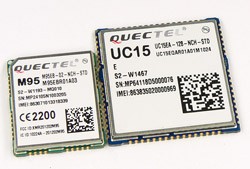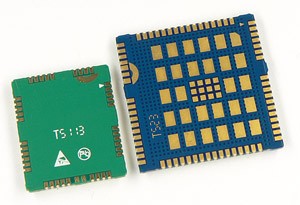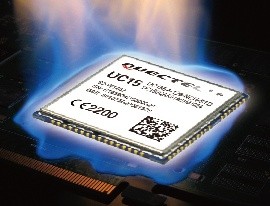 Advantages/ Features:
top-level GSM/ GPRS modules

support of latest protocols

eCall support (M95EB)

Dual Sim (M95EB)

low power consumption

competitive price

also available on so called adaptor board
Do not miss these articles
Do you like our articles? Do not miss any of them! You do not have to worry about anything, we will arrange delivery to you.
Gain the M95EB module for free!
Competition with the following question has been published here:
What does the DSSS abbreviation mean?
The correct answer was: Dual SIM single standby
We have drawn the following winners:
Martin Šuňal [SK]
Congratulations to winners. We´ll inform them by e-mail.