Bestselling measuring instruments - full equipment for the price of the standard
OscilloscopeMeasuringPower supply
Save up to 49% with the top-selling Rohde&Schwarz devices with maximum equipment. The offer includes the oscilloscopes, spectrum analyzers, power supplies and also power analyzer. Schools can take advantage of an additional 15% discount. The offer lasts until the end of 2019.
Decoding of CAN, LIN and other interfaces, arbitrary function generation, extra big memory for storage of samples and other extra functions "Options" for the price of the standard version?
Yes, it is really possible with Rohde and Schwarz promo. All of this will get you ready for a variety of tasks you may encounter in the near future while increasing the convenience and accuracy of your current work.
Shortly - until the end of 2019, Rohde & Schwarz offers truly valuable promo featuring "Everything you need, and more" alias the complete solution at an exceptional price with a discount of up to 49%.
What does it mean in praxis and which instruments are involved? In the promo offer, you can find selected bestsellers from oscilloscopes, spectrum analyzers, power supplies and power analyzers.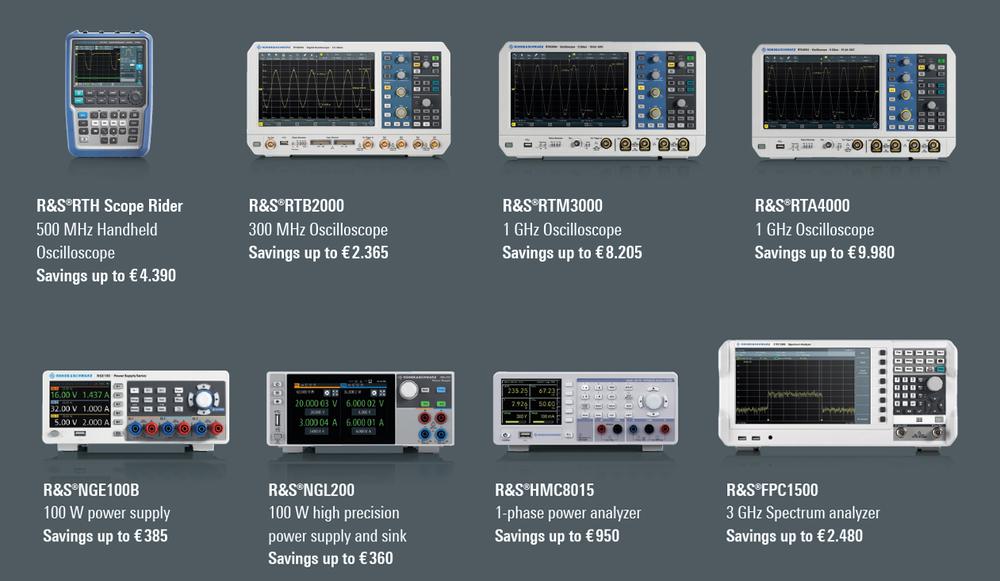 From the offer, let's mention, for example, the popular and advanced RTB2000 series oscilloscope in the highest version RTB2K-COM4 (300MHz 4analog/ 16 digital) and with maximum equipment (with AWG, MSO, I2C, SPI, UART/RS-232/RS-422/RS-485, CAN/LIN, frequency response analysis, history and segmented memory) available with a 42% discount.

From the RTC1000 basic class oscilloscopes series, it is the RTC1K-COM2 (300MHz, 2 analogue/ 8 digital) with maximum equipment available with a 49% discount. This oscilloscope is ideal for schools and for various training centres etc.
As for the power supplies, we can mention the NGE-COM3a with an outstanding price/performance ratio, now with a possibility of remote control via Ethernet, WiFi and with a digital I/O trigger available with a 33% discount.
All products involved in this special offer can be found in the following table: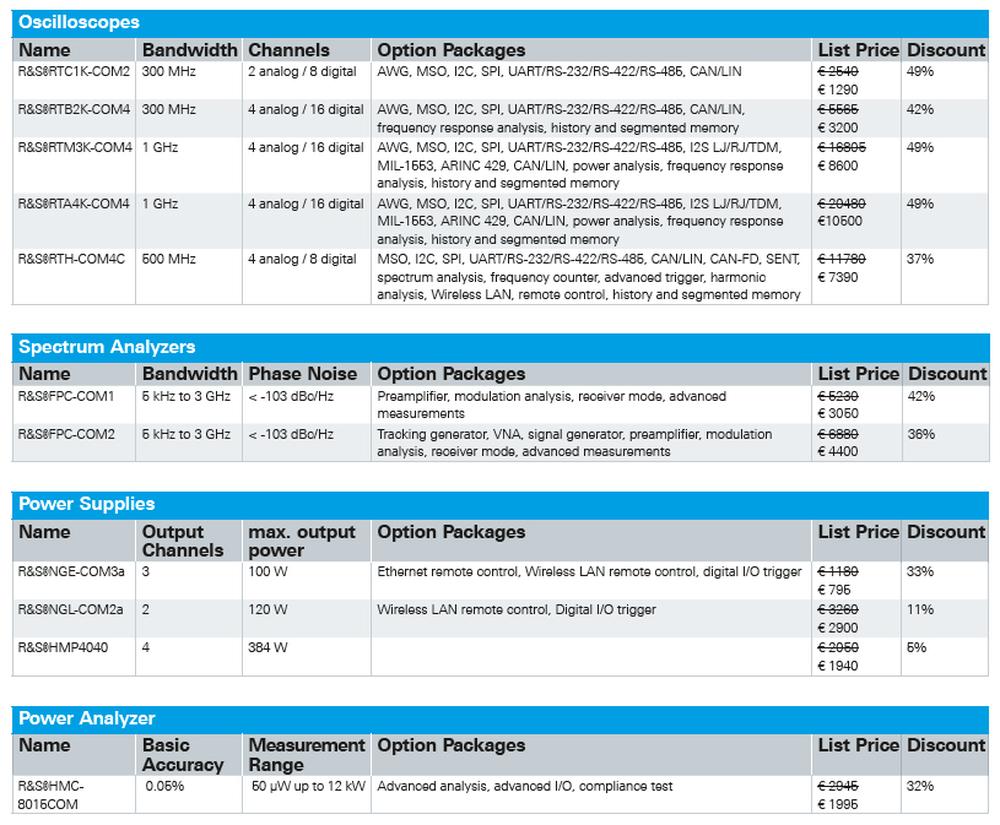 EDU Discount - Schools get an additional -15% off the listed prices.

We are able to deliver all the above-mentioned Rohde&Schwarz devices at favourable terms and with short delivery time until the offer lasts, which is the end of December 2019, or stocks run out.
In case you need more information about Rohde&Schwarz products, or you need the advice, we are ready to help you at sales@soselectronic.com

Do not miss these articles