New product RTB2000 from Rohde&Schwarz introduced at Embedded World exhibition in March 2017 is a digital oscilloscope, which is a perfect tool for university laboratories, troubleshooting embedded designs during development and for production and service departments.
This is an archive article published 27.06.2017. Some information may no longer be up to date and in line with the current state. Please contact us in case of interest.
RTB2000 has the largest display (10.1") with the highest resolution of 1280 × 800 pixel in its class, a capacitive touchscreen to quickly navigate in pop-up menus and a touch function to easily adjust scaling, to zoom in or to move a waveform – it works just like your smartphone.

The 10-bit A/D converter provides up to a fourfold improvement when compared to the conventional 8-bit A/D converters. You get sharper waveforms with more signal details.

10 Msample memory depth is available for each active channel. When interleaved, even 20 Msample are available. That is 10 times more than comparable oscilloscopes offer. This captures longer signal sequences for more analysis results.

The R&S®RTB2000 gives users more than just an oscilloscope. It also includes logic analyzer, protocol analyzer, waveform and pattern generator and digital voltmeter.

Dedicated operating modes for frequency analysis, mask, tests and long data acquisitions are also integrated. Debugging all kinds of electronic systems is easy and efficient.

We will inform you about prices and availability soon.
Comparison RTB2000 vs. HMO1002/1202: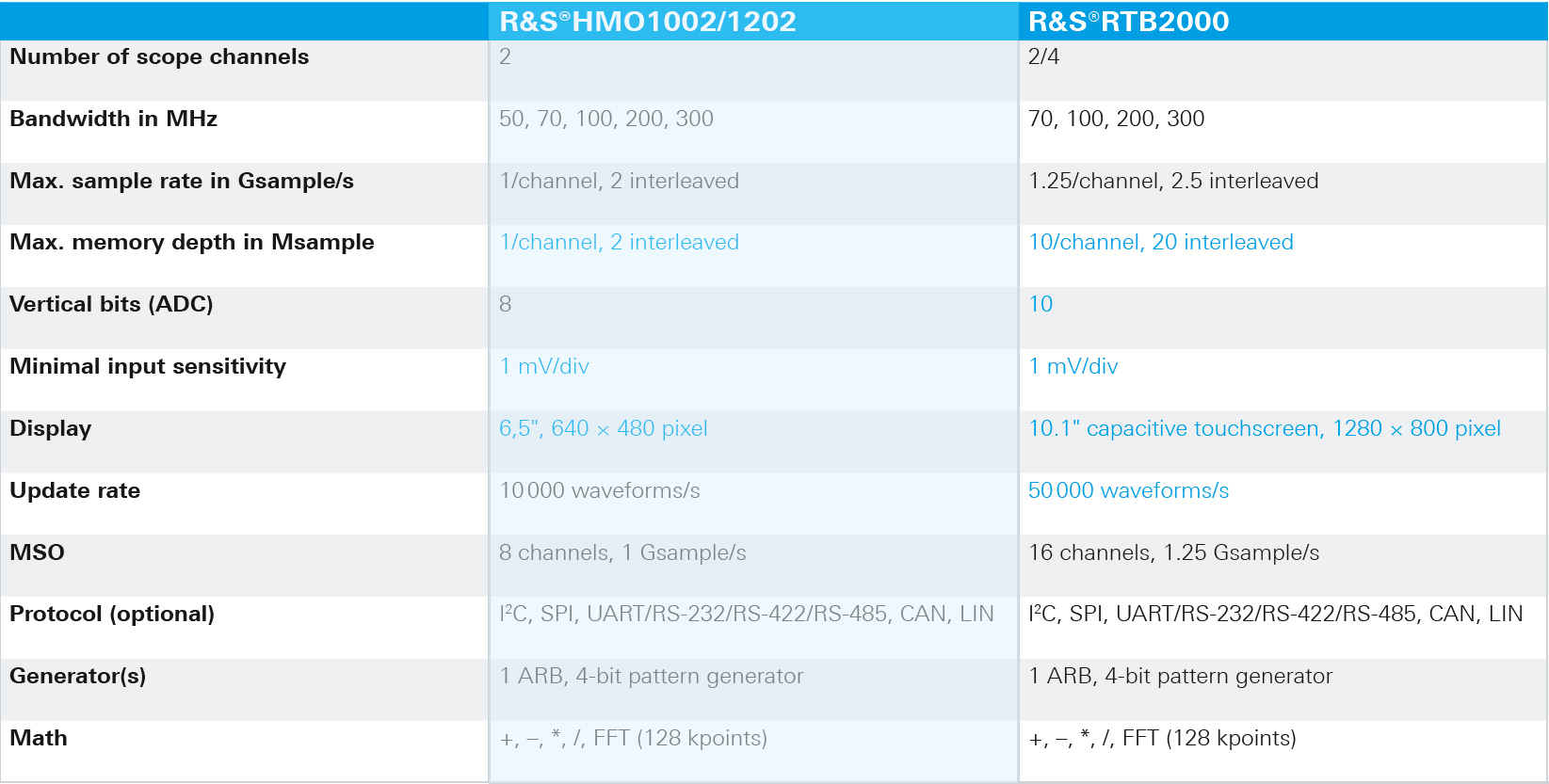 We now have a promo package with a software option for measuring on digital bus.

Promo package RTB2K-COM4 includes:
R&S RTB2004 Digital 4 channel, oscilloscope, 70 MHz
R&S RTB-B243 300 MHz Option, RTB 2004
R&S RTB-B1 Mixed-signal max.300MHz
R&S RTB-B6 ARB Generator
R&S RTB-K1 I2C/SPI Trigger&Decode
R&S RTB-K2 UART/RS232 Trigger&Decode
R&S RTB-K3 CAN/LIN Trigger&Decode
R&S RTB-K15 History&Segment memory
Special offer:
RTB2002 NOW1100 €/ then the list price 1250 €

RTB2K-COM4 NOW5500 €/ then the list price 7500 €
Special offer is valid only until the stocks are sold out.
In case of interest, please contact us at
sales@soselectronic.com
.
Do not miss these articles
Do you like our articles? Do not miss any of them! You do not have to worry about anything, we will arrange delivery to you.