The newest issue of SOSnews 1/2021 is already in electronic form on our website in 5 languages. Please take a look.
You can read in the newest issue of SOSnews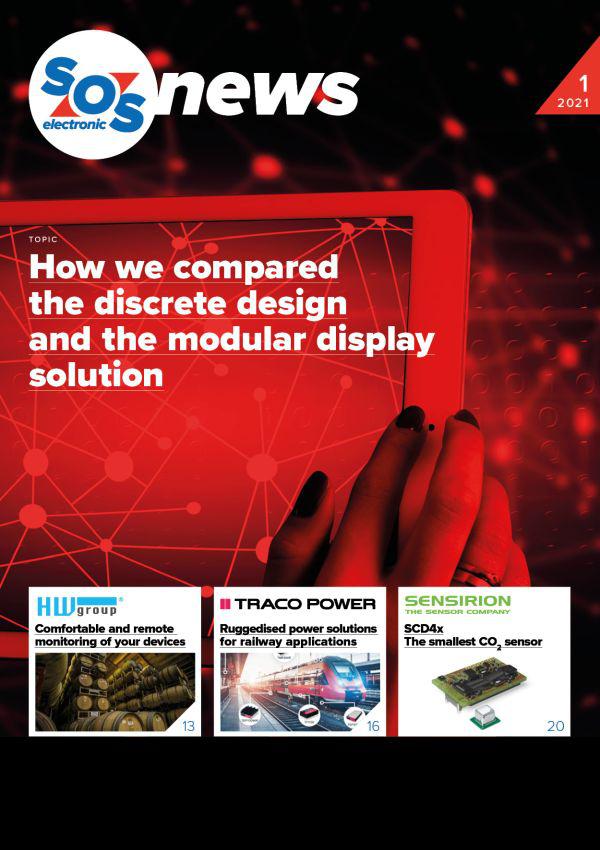 SPEKTRUM
Latest news about SOS electronic ...
TOPIC
How we compared the discrete design and the modular display solution
SUCCESS STORIES
Comfortable and remote monitoring of your devices
PRODUCT NEWS
Ruggedised power solutions for railway applications TracoPower DC/DC converters guarantee full performance in
Artificial Intelligence in your Electrical Enclosure
Wago DIN rail terminal blocks
SCD4x The Smallest CO2 Sensor
Eye-catching design for your Hammond enclosure
ASSORTMENT
WiFi/ISM/BT antenna for industrial environments
FLUKE – buy one, get one FREE - Extended Offer
Finder relays for railway applications
No screw, no cry
SOS DIGITAL
Take part in a competition and win interesting prizes!
1. prize – Set of tools for electronics, 45pcs
2. prize – Measuring device UT131C
3. prize – SOS electronic shopping bag
All you need to do is correctly answer 3 questions in our form and the prize can be yours. We will draw 3 winners from all the correct answers.
Names of winners will be published in this article on 21.6.2021.
You will find the answers to questions in our SOSnews magazine 1/2021.
The competition ends on June 20, 2021. 

Do not miss these articles
Do you like our articles? Do not miss any of them! You do not have to worry about anything, we will arrange delivery to you.