See "Invoice Details" for detailed information on purchased items. Features such as data export to a CSV file or quick links will make your work easier and save you time.
The "Invoice Details" section provides detailed information about individual items - name, number of pieces and price.
However, there are several practical functions for working with items, e.g., a quick link on "Declaration of Origin Request". Or a button to export items to a CSV file and then import them into your information system.
But let's do this step by step. This is what the invoice detail page itself looks like: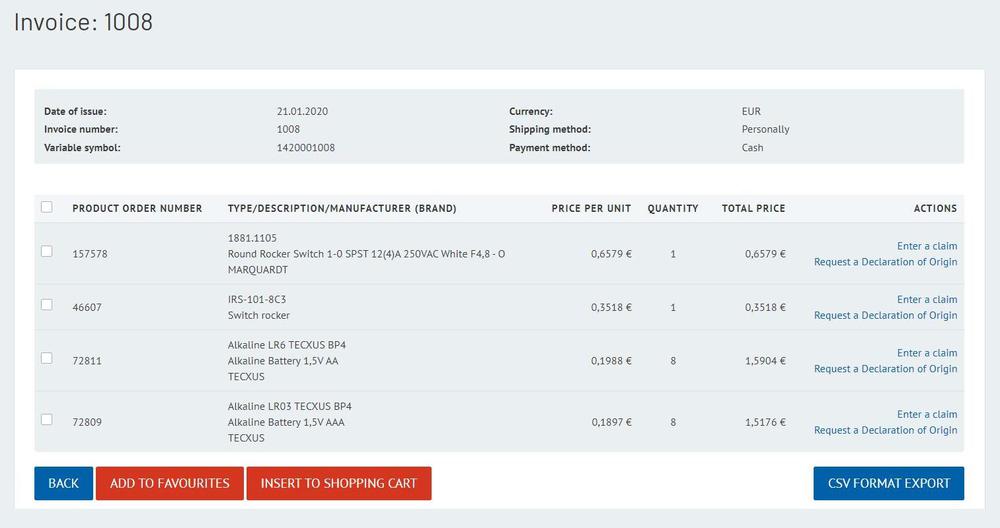 And here is an overview of all the information you can find here:
Invoice header - includes the invoice number, date of issue and due date, payment method, invoice amount and currency in which the invoice is issued.
Invoice items - contain the order number of the goods, their names, description and manufacturer, and the number of pieces and the price.
A quick link on the item
To save you a few minutes, we offer you the option to click directly from the invoice item to the following links:
Reclaim the given goods
Request a "Declaration of Origin"

Export to CSV file
This is the solution for long invoices. You can simply import the generated CSV file into your information system. You will not have to enter items and their prices manually. You can open a CSV file, e.g., in Excel and customise it as per your needs.
The file contains only invoice items. One line represents one item and contains the order number, name, number of pieces, the price per piece and price per item.

Reorder an item from the invoice
If you want to re-order the same goods, do so directly from the "Invoice Details". Choose an item, change the number of pieces if necessary, and add the item to the "Shopping Cart".
Move to Favorite Items
If you often order the same goods or a set of components for your product's production, we recommend using the so-called "Favorite Items". You can add goods to "Favorite Items" quickly and easily from the "Invoice Details". Select the goods you want to add, adjust their number and move the goods by clicking on just one button.
We believe that this new information is helpful; it will make it easier for you to work in our e-shop.

We will be happy to respond to your comments and suggestions at webmaster@soselectronic.com.

Do not miss these articles
Do you like our articles? Do not miss any of them! You do not have to worry about anything, we will arrange delivery to you.