The monthly turnover of SOS electronic europe group has exceeded the one million euro's level in March 2011. It is the first time in our history when the monthly turnover achieved 1.087 euros.
This is an archive article published 04/21/2011. Some information may no longer be up to date and in line with the current state. Please contact us in case of interest.
We are glad, that after very good result last month, our turnover montly increased by 17,5%.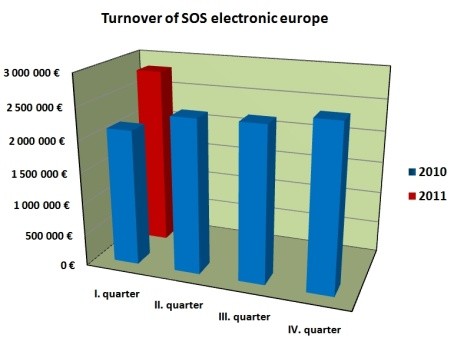 Also the cumulative result of a Quarter-time represents top level of our group in its history. In Q1-2011 we achieved sales of 2.815 million EUR, an increase over the same period last year about 31.48%. Compared to the last quarter of 2010 an increase was about 9.26%.
We are aware that without our customers it would not be possible because it is just YOU, who stand behind our growth. We are honored that we can grow together!
Do not miss these articles
Do you like our articles? Do not miss any of them! You do not have to worry about anything, we will arrange delivery to you.