If we look at the hypertext link to this article (/?str=1000), we find that this one is a thousand one in the order in our CMS (content management system). Come with us to look at some facts ...
This is an archive article published 11/16/2011. Some information may no longer be up to date and in line with the current state. Please contact us in case of interest.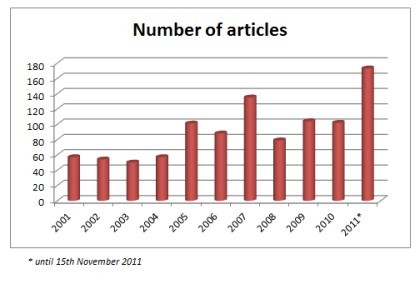 We launched our CMS in 2001. During 10 years we have gradually modified it and adapted. We wanted to bring articles with the highest possible value for you. In the beginning we have prepared our articles only in Slovak language. An impulse as set up of export department and consequently the inclusion of local branches into one business group with a common marketing led us to a natural extension of other language versions. Today we publish our articles in
7 different languages
.
In June, we created on our marketing department a new position. Our new colleague is responsible specifically for the product articles writing. Before he worked as a developer in practice, even with our customers, so it is close to you :)

We believe that this step we took, have brought level of product articles significantly ahead. Proof of this fact are increasing numbers of readership. It had increased by an average of 50%. We are very pleased:
the number of citations to the articles;
how many samples are send to you to try after you read our articles;
we accept your suggestions, comments to the article or we accept articles written by you about your products, where components from our offer are used.
At the same time, we believe that ultimately we help especially you - our customers, readers, for whom we do it. We would be glad, if our articles will help you in the orientation of the electronic components and always pleases us when you return to our site as a resource to expand your technical view.
If there is any kind of articles missing on our web site, feel free to let us know via marketing@soselectronic.com. We want to improve ourself for you!
A few numbers:
an average of 4 articles a week

7 standard different languages (SK, CZ, PL, HU, EN, DE, RO)

119 articles in the last 6 months

3400 clicks on an article in an average
Do not miss these articles
Do you like our articles? Do not miss any of them! You do not have to worry about anything, we will arrange delivery to you.