Renowned specialist portal HW.cz notes our technical support that is provided to our customers day-to-day as an added value.
This is an archive article published 11/28/2012. Some information may no longer be up to date and in line with the current state. Please contact us in case of interest.
Technical support is a motto which distributors use very often in their marketing materials. But we rarely find out what technical support actually is and how it benefits customers. That is why we asked one of the active distributors, SOS electronic, to explain their technical support program.
As in every other company, SOS electronic's technical support has also undergone gradual development. During a couple of years it has proceeded from the phase of solving problems with components
to the level of applications development support used also by reputable companies
. The reason is nothing but time and price of the development. When the author focuses directly on actual circuits from an actual producer when suggesting a new system, he may encounter unexpected barriers, for example unavailability of a development kit, reference applications and also their price. But not even overcoming these obstacles guarantees that the selected circuit is appropriate for 100% for his application.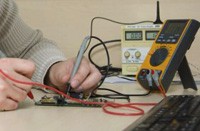 Application engineers in SOS electronic are
highly skilled
, because they themselves are developers with experience (and some of them are still active developers!). Moreover, they have a great knowledge of wide portfolio of components from many producers and so already in this phase developers can
provide more solutions with different levels of application support available
and also with different prices. SOS has experienced many cases when they
saved customers a couple of months necessary for the development
.
As the authorized distributor of a range of famous brands, SOS electronic also has exceptional attitude towards the support provided directly by producers súčiastok.of components. It has happened several times that SOS electronic technicians needed the producer's help when dealing with customer's problem. The producer immediately sent his specialist and they dealt with the customer's problem on the spot.

Researches and consultation with the support team at the distributor's can help the company to avoid many problems that would arise later not only with development but also with production work. Since SOS electronic technicians provide support for an entire range of solutions, for example lighting, data communication, sensor solutions or power supply, they have extensive experience with the compatibility of different systems, development of component availability and prices in individual producers. Therefore, they can recommend their customers the most suitable solution with regard to production work and estimated time for the production of goods. All of those who had to redesign the product because of the unavailable components can prove that they would be glad to avoid such experience. Only a little amount of money that you can save thanks to components at the beginning can change to thousands inevitable for redesigning or when we talk about business loss, it can be even millions.

That is the reason why the technical support of SOS electronic enters into business already at the beginning. Regular customers usually consult their projects already at the beginning of the development. Sometimes the sales representative is the initiator of this step. He communicates with the company and finds any questions that need solutions. Application engineers in SOS electronic have sufficient capacity for finding the solution and answering the customer's questions. Many times only because they know who to ask, they are able to provide advice immediately and the customer does not need to wait.


An interesting part of the support in SOS electronic are the Pizza Workshops. These are thematically oriented trainings where you can learn more about practical characteristics of different components and modules and get information directly from producers for their best application in practice and mainly, you can try everything right on the spot using individual modules.

And why Pizza Workshop? The reason is simple. In SOS electronic they want you to feel comfortable and like actual developers. That is why these workshops feature casual dress code, open discussion, pizza and soft drinks instead of a formal lunch.

Spring workshop was devoted to Lantronix network technologies and GPS and GPRS modules
Videos
Do not miss these articles
Do you like our articles? Do not miss any of them! You do not have to worry about anything, we will arrange delivery to you.