New 6W DC/DC module series TEN5 won´t be scared neither of a very fluctuating input voltage, that´s why it´s ideal even for battery-operated applications.
This is an archive article published 10/01/2013. Some information may no longer be up to date and in line with the current state. Please contact us in case of interest.
Series TEN5 is a well proven reliable series of insulating DC/DC modules with a fixed output voltage, in case of TEN5-2411WI it is 5V. TEN5 series is available in so to say "basic" version with a 2:1 input voltage range and also in this "WI - wide input" version, with a 4:1 ratio. In the most of cases, it´s probably possible to choose an appropriate type, for example TEN5-1211 with an input voltage of 9-18V, which is for example ideal for 12V applications with Pb accumulators (SLA). However namely for the mobile applications it can be beneficial, if a given device could be powered also by for example 24V, used in cargo trucks.
TEN5-2411WI
with an input voltage of 9-36V and 5V/1A output is suitable this new type from our stock offer. Besides mentioned wide range of input voltages it also features a good efficiency (79% typ.) and excellent regulation at a change of input and/or load. Enhanced operating temperatures range (-40 to +85°C) and resistance to a continuous shortcut make it suitable even for demanding applications. Also useful is the built-in filter to meet EN55022 Class A and FCC level A. Metal shielded package in a standard DIP-24 package with an insulated base plate simplifies PCB design and also assembly to a PCB. In the TEN5 series can be found 2 versions: with input voltages of 9-36V or 18-75VDC with various output voltages, including symmetrical ones.
Detailed information can be found in the TEN5-WI datasheet.
In case of interest, please contact us at info@soselectronic.com.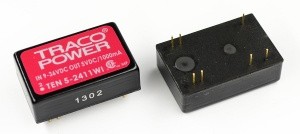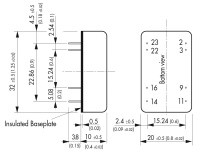 Advantages/ Features:
insulated 6W DC/DC modules

ultra wide 4:1 input voltage range

metal shielded DIP-24 package with a standard pinout

fully SMT design

enhanced operating temperatures range -40 to +85°C

excellent input and load regulation

1500VDC input/ output isolation

built-in filter to meet EN55022 Class A and FCC level A

indefinite short circuit protection
Do not miss these articles
Do you like our articles? Do not miss any of them! You do not have to worry about anything, we will arrange delivery to you.
Get a TEN5-2411WI sample for free!
Competition with the following question has been published here:
What´s the level of output current for activation of a current limitation?
The correct answer was: 110% (1.1A)
We have drawn the following winners:
Mathias Richter [DE]
Marian Dan [RO]
Károly Kováts [HU]
Congratulations to winners. We´ll inform them by e-mail.