We are expanding the portfolio of IoT products with the world brand USR IoT
Our new supplier, USR IoT, is an expert in industrial communication IoT products with a focus on serial data networking and M2M applications. ISO9001 quality management with more than 20 years of experience in business guarantees its expertise.
Product portfolio covers Serial to Ethernet converters, Industrial 4G Routers, Industrial Cellular Modems, Ethernet Gateways, and Embedded/WiFi Modules.
The most interesting product, from our standpoint, is probably the USR-K7 module, also known as SuperPort. It is an industrial grade TI Cortex M4 MCU based Serial to Ethernet module with a rich set of features.
This tiny module supports five working modes of TCP Client, TCP Server, UDP Client, UDP Server, and HTTP Client. The data transmission can be realized with a simple configuration.



Data submitted directly to a Web server

USR-K7 supports data interaction between the terminal device and the web server directly. Without considering the conversion process, the data request from the serial port to the HTTP server can be realized quickly, just by setting parameters.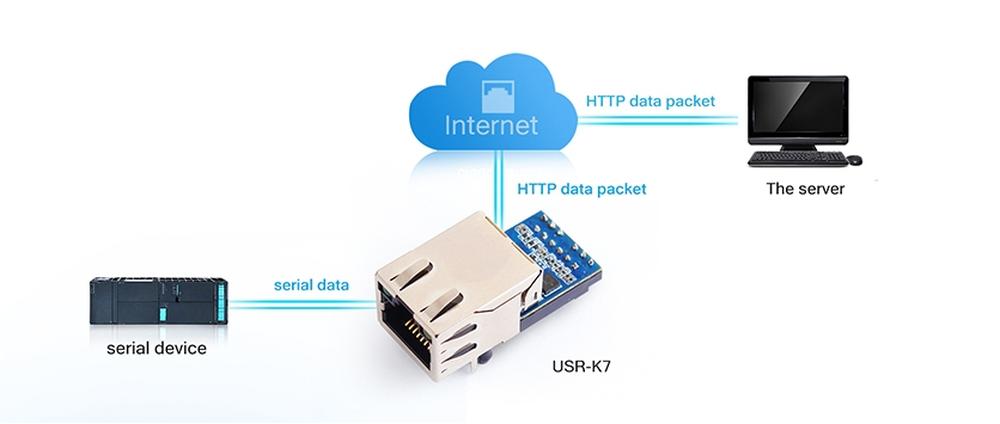 Features:
Virtual COM port – solution for PC software, which is designed to use a serial port for networked devices
Disconnection identification, automatic connection
Easy identification of dead links and auto re-connection to prevent data loss due to power outages and disconnections
Modbus Gateway
Polling mechanism can effectively solve the problem of congestion caused by data concurrency (firmware 3009 or higher)
Custom built-in web page/ Function of Web to Serial
Design built-in web pages according to project requirements; carry out web page control, web page data acquisition. 
System information:
CPU: Cortex M4
Frequency 120MHz
Flash 512KB
UARTs: 1 TTL
Baud rate: 600bps-1Mbps
Configuration: Webpage/Set-Up SW/Serial commands
Dimensions: 35x19,4x18,3mm
Operating temperature: -40….85°C
Current consumption: 120mA on average
Power supply: 3,3V 
Now you can shop embedded products directly from us, we have added most popular USR IoT products into our stock. The prices and availability are favorable and can be found in our webshop.
If you are interested in any of USR IoT products, or you need more information, do not hesitate to contact us at sales@soselectronic.com
Do not miss these articles