TFT displays can withstand a wide range of working temperatures. However, limit values have a negative impact on their life. Do you also count with extreme conditions when choosing a display?
This is an archive article published 06/13/2019. Some information may no longer be up to date and in line with the current state. Please contact us in case of interest.
When selecting a display, it is important to consider the temperatures at which it will work and, in addition, allow for the extraordinary temperature conditions that may occur in the application environment.
Today's standard TFT displays usually have a working temperature range of -20 to + 70°C. TFT displays with a narrower operating temperature range, e.g. 0 .. + 70°C or 0… + 50°C are quite rare.
Fortunately, we also have TFT LCD types with an extra wide temperature range of -30 to +80 (85)°C.

When it is advisable to use a display with an extra wide operating temperatures range?
If the application works outdoors, we are naturally also interested in the lower temperature range. Minus 20°C occurs almost every winter in European conditions. It is only a few days, but it is necessary to consider such temperature. Temperatures around -30°C occur even more rarely, but there are years with such low temperatures. If you have a device that must be able to operate at such low temperatures, then the display with a temperature range of -30 to + 80 (85)°C is a clear choice.
However, there are also cases where a short-term reduced or even minimal readability of the display operating at a temperature lower than the allowed minimum are not a problem. However, there is a catch that under these circumstances the display may be irreversibly damaged. The point is that the storage temperature range is often the same as the working temperature range, so the manufacturer does not even allow to "store" or to expose the display to lower temperatures, even though in the off-state. This fact underlines the importance of considering the temperatures at which your equipment can work.
What effect does the high temperature have?
Here is a similar situation, LCDs at very high temperatures usually lose contrast but it depends very much on the particular display/technology. High temperatures also load higher demands on the materials from which the LCD panel is constructed.
For example, temperatures of about 50-70°C are common for closed, non-vented vehicles cabins parked in the direct sunlight in the summer. Similarly, the displays behind the exterior glass cover, which are exposed to the sun even for a short time, are subjected to considerable temperature shocks.
Displays with an extended temperature range are a safer choice here too. Of course, the display itself and especially its backlight is a source of heat. Therefore, it's not just the ambient temperature that must be taken into account, but also the resulting working temperature of the display.
How do the extended temperature range displays differ from the standard ones?
Precise details are part of the know-how of every display manufacturer, but we can say that the difference is in technology and also in the fluid of liquid crystals. Usually, if we work with a product/substance at high temperatures at the upper limit of the allowable range, it has a negative impact on its life. The same is true for displays, so if you know that your display may be exposed to temperatures around the maximum allowable value for a given type, you may want to use a higher maximum temperature display.
Winstar currently offers 16 types of TFT displays from 3.5 "to 12.1" for temperatures of -30 ... + 80 (85)°C, including versions with the option for high brightness (600-1000cd/m2) and the new ones are coming up. A big plus of these displays is that they feature storage temperatures range from -40 to +80 (90)°C.
Please, see the below quick selection chart for the brief overview.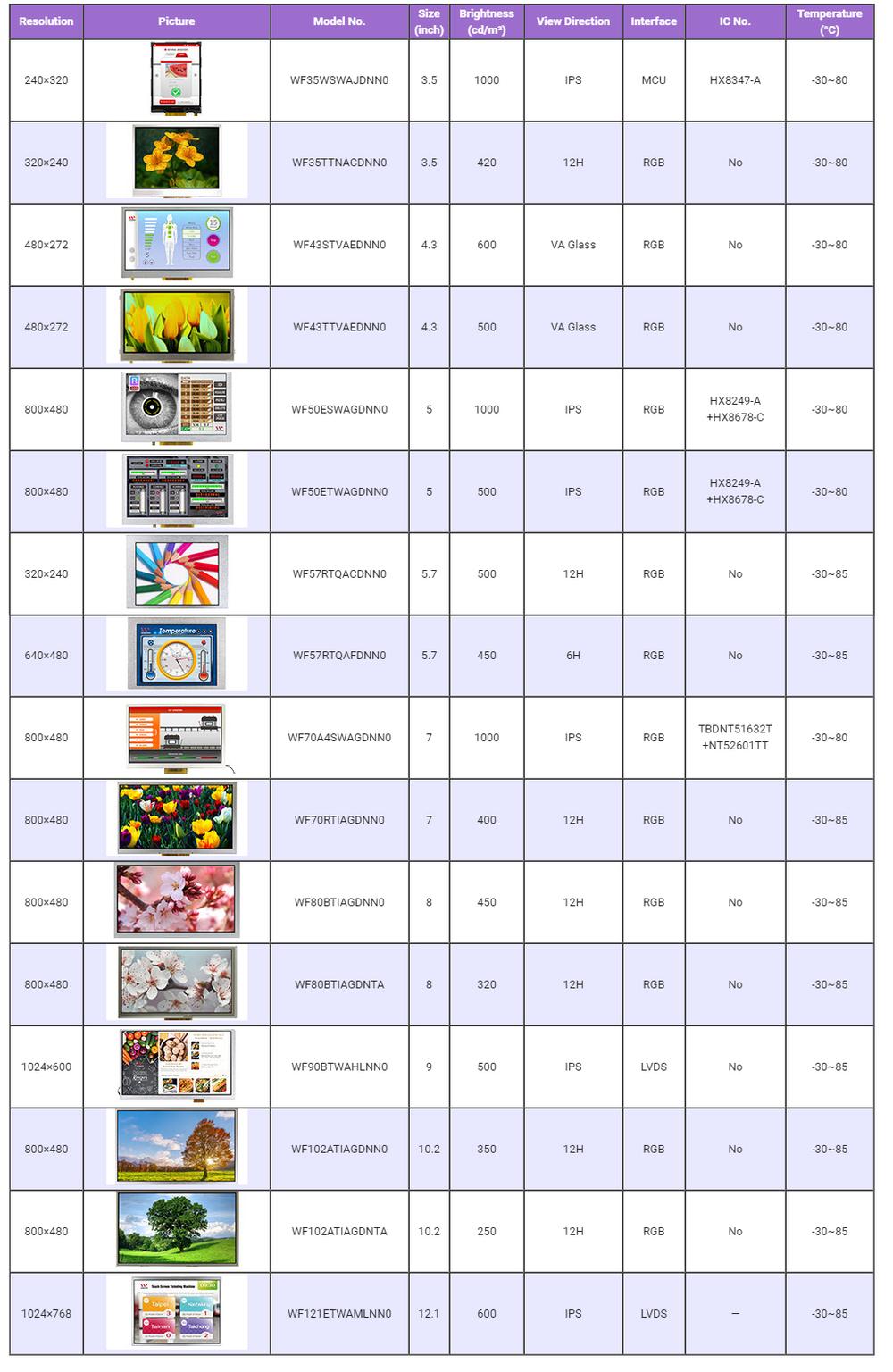 If you are interested in WINSTAR displays with extra wide operating temperatures range, please send us your request to sales@soselectronic.com and we will promptly review the price and availability.

Do not miss these articles
Do you like our articles? Do not miss any of them! You do not have to worry about anything, we will arrange delivery to you.