Viewing angle around 160°-170° and an excellent contrast say in favor of character displays with OLED technology.
This is an archive article published 07/07/2014. Some information may no longer be up to date and in line with the current state. Please contact us in case of interest.
OLED technology (Organic LED) slowly but surely finds its place even in industrial devices. After a big success at mobile phones, where they convince by high contrast and an excellent viewing angle, this technology becomes price-affordable and technologically advanced even for industrial applications.
Benefits in short:
● OLED means, that every pixel is principally one "planar" LED, thus each pixel emits light (white, RGB or some color). That means, that OLED doesn´t have / doesn´t need backlight and it also helps to a high contrast, as there´s no problem with a light bleeding through "off" (black) pixels, as it is often at LCD displays. High contrast also ensures excellent legibility even at a strong daylight.

● wide viewing angle. As every pixel (point) is itself a light source, it shines in all directions (half-globe) and it provides an extreme viewing angle near to a theoretical maximum of 180°

● extremely wide operating temperatures range, frost doesn´t "slow down" display response time

● the same color from every viewing angle. This is vital at color (RGB) OLED displays and it means almost zero color shift at viewing from various viewing angles, so well-known from TFT LCD displays

● low power consumption, partially dependent on a display content (number of switched-on pixels and their intensity)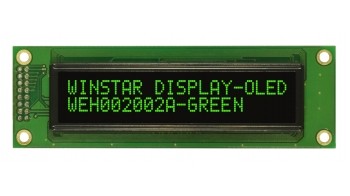 New character displays from company Winstar belong to advanced displays with declared features. In our stock can be found types for example WEH001602ABPP5N00000 (16x2, blue), WEH001602AWPP5N00000 (16x2, white), WEH002002ALPP5N00001 (20x2, yellow/orange - "amber") and WEH002004ALPP5N00000 (20x4, yellow/orange - "amber") and other. They all have 8-bit parallel interface "6800" and a modern controller WS0010. Direct comparison of OLED display with an FSTN LCD is best illustrated in the attached video.
Videos
Do not miss these articles
Do you like our articles? Do not miss any of them! You do not have to worry about anything, we will arrange delivery to you.