SOS = Supplier of Solution
Distribution of electronic components for industrial production is the area in which we provide services to our customers for few decades already. This success would not be possible without quality people in our team who stand behind every sold component or provided service.
Why work for SOS electronic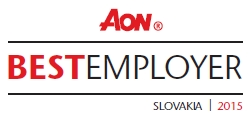 Satisfied and motivated employee permanently contributes to the development of the company. Our goal is to acquire, motivate and retain dedicated people with excellent skills.
Thanks to that we are one of the companies that have been awarded the title of "by International Agency AonHewitt in 2015."
We provide our employees:
work in a stable and promising company
possibility of self-realization, professional and personal growth
modern working environment using the latest technology
humane approach
possibility of flexible working hours depending on the job position
education system, company language courses
social program
contribution to DDP
We are among the companies with the lowest fluctuation.
Who we are looking for
productive people who are pulling the company forward
people who are constantly working on themselves and are learning
people who are sufficiently flexible and are able to adapt depending on circumstances
people who are curious and are always looking for new and better solutions
people who are bringing new perspectives and opinions
We don't "employ" people. You will get a space for self-realization with the possibility of continuing professional development and personal growth.