New antenna 2J620P will provide you a high quality GSM and GPS signal at once, moreover with a very simple assembly.
This is an archive article published 03/26/2014. Some information may no longer be up to date and in line with the current state. Please contact us in case of interest.
Tracking of vehicles or goods is still more used what naturally results into a requirement for a suitable antenna. One of them can be the 2J620P. It offers a very simple and elegant solution, as in fact it is "2 in 1" - two antennas in one enclosure, each with a separate RG174 cable and SMA connector. Assembly is absolutely simple - by means of included double-sided foam pad. Also supplied is even a small towel filled by isopropanol for cleaning of a place of assembly as well as antenna itself.
2J620P has a 2.14 dBi gain for GSM and 26-28 dB for GPS. The GPS portion is equipped by an active amplifier, that´s why requires 2.7-5.5V/15-25 mA power supply. In many applications can be also advantageous a flat shape without any nibs.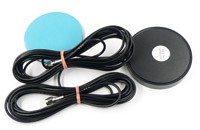 Advantages/ Features:
multiband GSM/GPS antenna

output 2x RG174 with SMA connectors

gain 2,14 dBi (GSM), 26-28 dB/GPS

power supply 2.7-5.5V/15-25 mA for the GPS portion

AMPS /GSM 900/1800 / 1900/ 2100 / 2400 / GPS 1575.42 MHz

operating temperatures range -40 to +85°C

77x12mm (DxH)

simple assembly - by a double-sided foam pad
Do not miss these articles
Do you like our articles? Do not miss any of them! You do not have to worry about anything, we will arrange delivery to you.