New 3,2" and 3,5" displays from company 4D Systems intended for Raspberry Pi are able to make a complete standalone system from this microcomputer.
This is an archive article published 12/18/2014. Some information may no longer be up to date and in line with the current state. Please contact us in case of interest.
Graphic output is always beneficial, enabling to use embedded microcomputer as a user interface (HMI) or at least to display various variables etc. There are many ways to reach it, but probably the most desirable solution would be to connect a display and nothing to solve.

New graphic modules 4DPi-32 and 4DPi-35 belong right to this group of ideal solutions, as they´re directly designed for Raspberry Pi (A,B, B+) - electrically and mechanically, while the I/O connector remains still available.

Simplicity of usage is empowered by a fact, that they don´t require (external) power supply, as they´re powered from the computer itself. Communication is done through a high speed 48 MHz SPI connection. Speed of a built-in processor enables displaying of pictures and videos with up 25 fps speed (even more if images can be compressed). Resistive touch panel enables operation of the whole system without a mouse.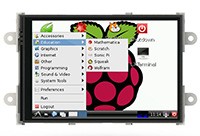 As for the size, there´s only a small difference between 4DPi-32 a 4DPi-35 modules - the biggest difference is in resolution 480 x 320 px (4DPI-35) vs. 320x240 px (4Dpi-32). Both displays display GUI (primary) output of the Raspberry Pi - the same as if we had a monitor connected.
These novelties are already our stable stock item. Detailed information will provide you the
4DPi-32
and
4DPi-35
datasheets.
In case of interest in any
4D Systems product
, please contact us at
info@soselectronic.com
.
Advantages/ Features:
primary displays for Raspberry Pi (A, B, B+)

480x320px/ 320x240 px (Pi-35/Pi-32)

integrated 4-wire resistive touch panel

65k true to life colors, RGB

no external power required

high speed 48 MHz SPI connection

4 mounting holes for a reliable assembly
Do not miss these articles
Do you like our articles? Do not miss any of them! You do not have to worry about anything, we will arrange delivery to you.