The family of displays with the Pixxi 28 or Pixxi 44 graphics processor comes not only with round, square and widescreen displays, but also with several graphics functions and a powerful free graphics development environment.
This is an archive article published 09/16/2021. Some information may no longer be up to date and in line with the current state. Please contact us in case of interest.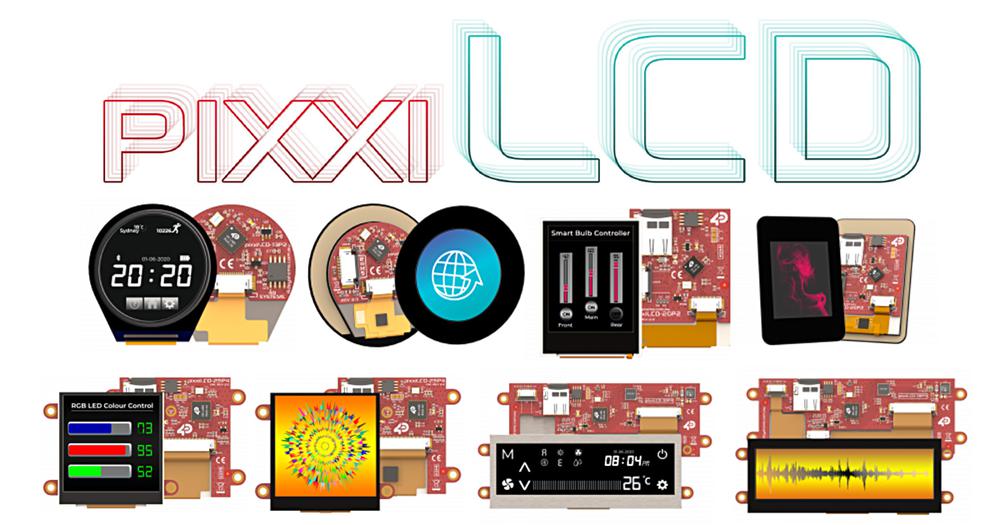 4D Systems
designs and manufactures compact and cost-effective display modules that use the latest OLED and LCD technology with a custom built-in graphics processor.
Their intelligent display solutions enable developers to achieve their goals in the shortest possible time and with the least possible effort.
We have already shown you that it is worth using an intelligent display module in our recent article. Especially for applications where you expect production quantities of 100 to 1000 pcs, the use of a smart display brings enormous simplification of development, time, and cost savings.
Also, those who have been following our articles for a long time know that the existing display modules from 4D Systems with Picaso Diablo 16 processors caused a small "revolution" a few years ago to simplify the development of the graphical (HMi) interface into applications. This time, 4D Systems has expanded its portfolio with a family of displays with a Pixxi 44 processor, which has been designed, from the very beginning, for optimised performance at the best possible price. Thanks to this, it enabled the construction of display modules with minimal demands on HW resources.
The new display shapes and sizes they're coming up with are also interesting. 1.3" round, 2.5" square, but also 3.9" widescreen displays will undoubtedly find their way into many of your applications.

Pixxi 28 and 44 graphics processors in brief:
Low-cost TFT-LCD and OLED display graphics user interface solution.
Ideal as a standalone embedded graphics processor or interface to any low-cost host controller as a graphics co-processor.
Configurable hardware and core layers with 3-wire and 4-wire serial SPI, MCU 8-bit, and MCU 16-bit interfaces.
Supports Resistive and Capacitive Touch Panels
Built-in high-performance Processor core (EVE) with an extensive byte-code instruction set
A comprehensive set of built-in graphics and multimedia services allows users with minimal experience to create high-quality graphics applications.

Display full-colour widgets, images, animations, icons and video clips.
Free comprehensive Software Development Tools (Workshop4)
Dedicated SPI interface for either SD memory card or Serial Flash memory chip
PWM output pin for backlight LED brightness control.
32KB of Flash memory for user application code.

General Purpose I/O pins for user interfacing, variously configurable for alternative functions such as Analog Input channels, I2C, UART
16-bit timers with 1-millisecond resolution.
Audio support for 16-bit PWM audio output.
Single 3.3 Volt Supply (3.0V to 3.6V range).
-40°C to 85°C extended temperature range.
What modules does the Pixxi family bring?
The easiest way to get started with the 4D pixxi family displays is to connect them to a PC using the 4D-UPA universal programming adapter and the (freeware) 4D Workshop4 IDE development software.

We have tried to select representatives from the pixxiLCD series of every shape, size and design for our stock.
There are types with a bezel for easy mounting into a prepared hole in your device's panel from the outside and without a bezel for classic mounting from the back of the panel. We have also selected types with or without capacitive touch panels. We can also provide you with other display versions at competitive prices and under favourable conditions directly from the manufacturer upon request.
If you require further information or would like some advice on selecting a suitable display from 4D Systems, please do not hesitate to get in touch with us at sales@soselectronic.com.
Do not miss these articles
Do you like our articles? Do not miss any of them! You do not have to worry about anything, we will arrange delivery to you.