Serial to LAN or WLAN interfaces, known also as device servers are widely spread and favourite because of their ability to easily implement a device with serial port into a LAN or WLAN. New LAN and WLAN industrial DIN rail device servers AK-DinRail-XXL and AKDinRail-XXR provide this functions for devices with RS232 or RS485 interface and support all modern communication protocols and security functions.
This is an archive article published 07/28/2011. Some information may no longer be up to date and in line with the current state. Please contact us in case of interest.
To have a device available in LAN brings many advantages, as we described it in an article about XT-Pico-USB interface. Any device with RS232 or RS485 is usable, e.g. industrial measuring devices, laboratory instrumentation, flow volume and pressure sensors, modems, various devices with microcontrollers and many other.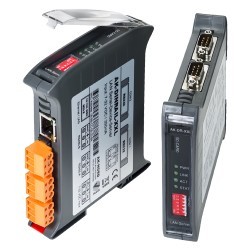 ●
AK-DinRail-XXL
enables to connect 2 devices
with serial RS232/ RS485 interface to LAN. Supports 10/100Mbit Full/Half duplex RJ45 Ethernet and
all latest protocols
including Ipv6 and TCPv6. Thanks to possibility to use SD card, it
allows saving one´s own homepage
or JAVA – Applets. AK-DinRail-XXL features many functions like: Modem Emulation, Connect-On-Data, Auto-Connect, Tunnel-Mode,DYNDNS-Client, FTP-Server, LPR-Server, 20KB Flash drive , Flash-File-System, SD- and DF-CARD, E-Mail – Client, TCP/UDP –Client, TCP/UDP –Server, SYSLOG-Client. AK-DinRail-XXL is able to work at temperatures from -40 to +70°C,
consumes less than 1 watt
and is enclosed in only 22,5mm thick housing.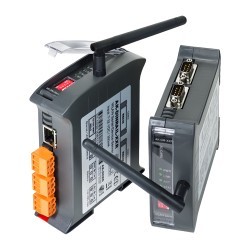 ●
AK-DinRail-XXR
enables to connect 2 devices
with serial RS232/RS485 interface to Wireless LAN – WLAN or 10/100Mbit Ethernet. Wireless LAN includes
all necessary protocols
such as IEEE802.11b,g as well as IEEE802.11n (Draft 3.0) allowing
simple and easy integration
. All required and
modern safety functions
such as WEP 64/128 Bit, WPA1 and WPA2-Personal are integrated and thus offering the
highest safety standard
. Furthermore, it features many useful functions like ADHOC / INFRA – Modus, Fast-Roaming, AutoConnect with Wi-Fi Protected Setup (WPS-PBC), Hardware WEP, TKIP, AES Engine, WEP 64Bit and 128Bit up to 4 Keys, WPA1 a WPA2. Power consumption is 2.2W and specified temperature range is -10 to +65°C.
Advantages / Features:
RS232/485 to LAN and WLAN device servers

DIN rail mounting

10/100 Mbit ethernet

supports IEEE802.11b,g,n WLAN protocols

supports all latest LAN protocols including IPv6 and TCPv6

for 2 devices with serial interface RS232 or RS485

highest safety standard

SD card slot

single supply 7-32V
Do not miss these articles
Do you like our articles? Do not miss any of them! You do not have to worry about anything, we will arrange delivery to you.