If you like the AVR ATmega microprocessors, then the AVR XMEGA offer you even more reasons why to use them in your appliances.
This is an archive article published 10/28/2011. Some information may no longer be up to date and in line with the current state. Please contact us in case of interest.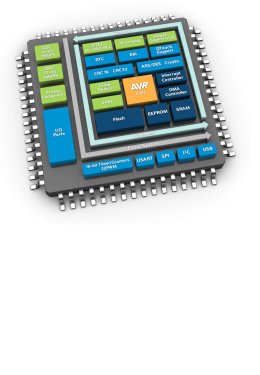 Single-chip microprocessors AVR ATmega have gained a huge popularity all over the world. Because an excellent can also be even better, Atmel Corporation came to the market with the innovated series of these processors under marking XMEGA.
Generally known excellent properties of 8 bit RISC processors AVR Atmega, were further improved by developers in Atmel Corporation in this new line of 8/16 bit AVR XMEGA processors. That they succeeded, testifies this concise overview of innovations:
fast precise 12 bit AD converter (ADC)
fast 12 bit DA converter (DAC)
DMA controller for CPU independent data transfer
event system, most of peripherials and the DMA controller can use it, what significantly offloads CPU
ultra low power consumption - picoPOWER technology for a minimal consumption of 100nA in the Power down mode
EBI bus for RAM extension, peripherials (LCD) or memory-mapped devices
free Qtouch library for operation with capacitive touch panels
full speed USB connectivity without external crystal (at some models)
free AVR Software Framework including all common USB device classes
LCD display driver for a direct connection of LCD to processor
true 1.6V operation and speeds up to 32 MHz
AES, DES crypting protocols
3-level interrupt controller (priority is freely user definable)
CRC modul (cyclic redundancy check) for data integrity check
RTC (real time clock) with optional battery backup system
analog comparators with adjustable hysteresis and propagation delay
external oscillator failure detection – in case of failure, CPU will start operation with the internal 2MHz oscillator
supply voltage 1.6 to 3.6V
You can watch the features overview of XMEGA processors in the video under this article. Basic informations will provide you the XMEGA Features overview as well as the Getting started document. On the Atmel website you can find many documents about various processor´s parts and its usage in the concrete applications.
In case of interest about any Atmel processors, please contact us at info@soselectronic.com.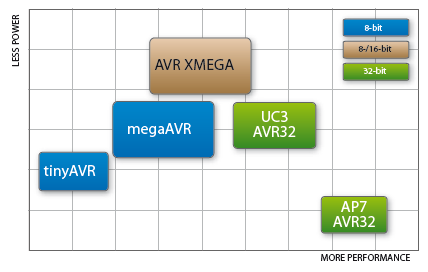 Videos
Do not miss these articles
Do you like our articles? Do not miss any of them! You do not have to worry about anything, we will arrange delivery to you.