Current limiting diode (CLD) is a less known component able to replace current limiting circuit. Current through the CLD is almost independent on the applied voltage. It enables to directly drive LEDs greatly simplifying an overall circuit.

This is an archive article published 07/28/2011. Some information may no longer be up to date and in line with the current state. Please contact us in case of interest.
Current limiting diode is known already for many years, but their usage was not very wide, although their advantages to simplify many circuits were obvious. Thanks to great improvements of LEDs for lighting during past years, advantages of CLD usage become evident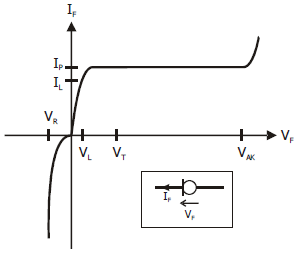 CLD is usually produced similarly to JFET transistors having G and S shorted. Main parameter of the CLD is Ip – i.e. pinch-off current or regulator current. When a voltage is applied on the diode, current rises almost linearly with a rising voltage. At a certain value of voltage (usually few volts), current reaches 80% of Ip and from this point, current is rising only slowly, reaching Ip, that´s whay this point is called VL - limitting voltage.
We offer to you a type CL20M45, which has a regulator current 20mA, limitting voltage 4.5V and a maximum operating voltage 45V. From these parameters is obvious, that this diode can be used as a constant current regulating element at voltages on diode from 4.5 to 45V. Of course, voltage on the load can be much higher. As 20 mA is a typical current of single 5mm or SMD LEDs, diode CL20M45 is ideally suitable to drive them. In DC applications, really only one component-CLD diode is sufficient to make a driving circuit. Driving already one LED is possible, for example from a 12V car supply, but to achieve a high efficiency, it is a better choice to drive an array of LEDs connected serially. For example for automotive applications where voltages usually vary from 12 to 14.4V, 3 white LEDs connected serially are ideal. If higher currents are necessary, CLDs can be connected in parallel.
Main field of CLD usage
is at bigger LED arrays supplied from DC or AC source. Because a voltage drop on the CLD is in this case very small, in comparison to voltage on LEDs,
efficiency of such circuit is very high
. A very simple circuit according to a picture is sufficient to drive LEDs from the AC mains 230V. Moreover, as the circuit doesn´t contain electrolytic capacitor, it has an
improved lifetime
, than at conventional circuits and a
smaller bridge rectifier can be used
because no current peaks occur from capacitor charging at switching on. This possibility is well described in a
"Diotec design idea"
.
For further informations about prices and delivery terms, please contact us at
info@soselectronic.com
.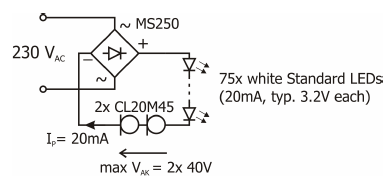 Advantages / Features:
current regulating component – current source

enables extremely simple design of constant current circuits

20mA current idealy suitable to drive 5mm and SMD LEDs

extremely simple circuit for driving LEDs from 230V AC

improved lifetime in comparison to conventional LED drivers

maximum power dissipation 1W

SMD package SMB/DO214AA
Do not miss these articles
Do you like our articles? Do not miss any of them! You do not have to worry about anything, we will arrange delivery to you.