Displays called as "Electronic ink" or "e-Paper" are a real electronic form of a paper.
This is an archive article published 05/23/2014. Some information may no longer be up to date and in line with the current state. Please contact us in case of interest.
For those of you, who are not familiar with this type of displays yet, we´l mention, that it´s a so called electrophoretic display, i.e. Display containing white particles in microcapsules dispersed in a thin layer of a dark high-viscosity liquid. These particles can be moved or turned by a short voltage impulse, what will cause a given pixel to appear as white. Similarly an impulse of a reverse polarity will cause a given pixel to appear as black or it can also be grey (usually 4 shades of grey). High viscosity of a liquid causes that microparticles remain their position practically forever (years). That means, that this type of displays only need an electric energy to change a displayed content (!). In other words it´s an ideal display for battery powered devices. From some point of view is the behavior of ePaper display similar to bistable (latching) relays. A display is reflexive, i.e. doesn´t require backlight but for a good legibility at least a low ambient light is necessary. It´s advantageous that the display is easily readable even on a direct sunlight. A charm of ePaper display is also in the fact, that a displayed content is really similar to that sketched/ written on a paper.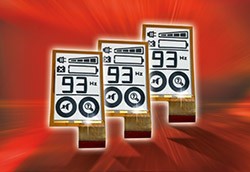 The first type of ePaper displays in our offer is a 2" (172*72 px) display from company Electronic Assembly
EAEPA20-A
. The module is only 1.18mm thin and it only needs a few additional components for its operation. Power supply is single - 3,3V (no other voltages are required) and the display contains a standard controller SSD1606 with a 4-wire SPI interface.
Detailed information will provide you the EA_ePaper datasheet. Upon request, company Electronic Assembly is able to produce any ePaper display up to 300x300 mm size (MOQ 1000 pcs).

In case of interest, please contact us at info@soselectronic.com.
Advantages/ Features:
e-paper display with a high contrast

display content remains even without a power supply

power is only needed for a display content change

2", 172*72 px,

high contrast, wide viewing angle

four shades of grey (black, dark grey, light grey, white)

thickness only 1.18mm

operating temperatures range 0…+50°C

consumption 0,657mW during a content change
Do not miss these articles
Do you like our articles? Do not miss any of them! You do not have to worry about anything, we will arrange delivery to you.