Modified connector Euroclamp SHM-F is simply more robust. Thanks to this change, it provides a higher reliability and more space for labeling of signals.
This is an archive article published 06/12/2014. Some information may no longer be up to date and in line with the current state. Please contact us in case of interest.
Usually, a miniaturization is a trend almost everywhere where we look. However it´s suitable to miniaturize some things/ components only until some level. This trend is very obvious for example in mobile phones, when many of us disappointed by a "micro-miniature" keyboard rather bought something bigger. Also nowadays smartphones with a touch display are considerably big, as a size of display brings advantages in this case.
Similar situation is also at new cable connectors (terminal blocks) Euroclamp SHM-F. It is an innovated version of the SHM series. Both are screwless, intended for connection with SV or PV series connectors, which we introduced to you in our article -"Do you already have solved a connection to a PCB?".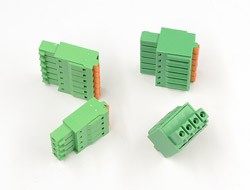 Comparison of both versions is best illustrated on the attached pictures - the original version is on the left side and on the right side is the new version. The main fifference is in the thickness of the connector body, which provides bigger robustness ad a sufficient space for signal marking. Also a positon of a release knob of a screwless clamp is "on the opposite side" in comparison to original version, what should provide a more convenient position of wires to a PCB.
Terminal blocks are declared for 160V/8A and a max. wire cross-section is 1.5 mm2. Screwless construction enables a fast connection and eventua exchange of conductors. New version SHM-F replaces type SHM (only available till stock sell-out).

In case of interest, please contact us at info@soselectronic.com.
Advantages/ Features:
plug-in terminal blocks with a 3.5 mm pitch

screwless version

suitable for PCB terminal blocks series SV and SH

8A/ 160V

operating temperatures range -40 to +130°C

2-24 poles
Do not miss these articles
Do you like our articles? Do not miss any of them! You do not have to worry about anything, we will arrange delivery to you.
Gain the Euroclamp SHM-F connector for free!
Competition with the following question has been published here:
What´s the testing voltage of SHM-F terminal blocks?
The correct answer was: 2,5kV AC/ 60s
We have drawn the following winners:
Bernt Weber [FR]
Libuše Jenešová [CZ]
László Farda [HU]
Congratulations to winners. We´ll inform them by e-mail.