Where human lives are switching, where enormous values are switching, and where one of the critical parts of transportation infrastructure - the railway network is switching, there are the most important uncompromisingly strict requirements for product quality, reliability and documentation, and certificates required. That's where Finder, the traditional European relay manufacturer, comes to the scene.
This is an archive article published 04/27/2021. Some information may no longer be up to date and in line with the current state. Please contact us in case of interest.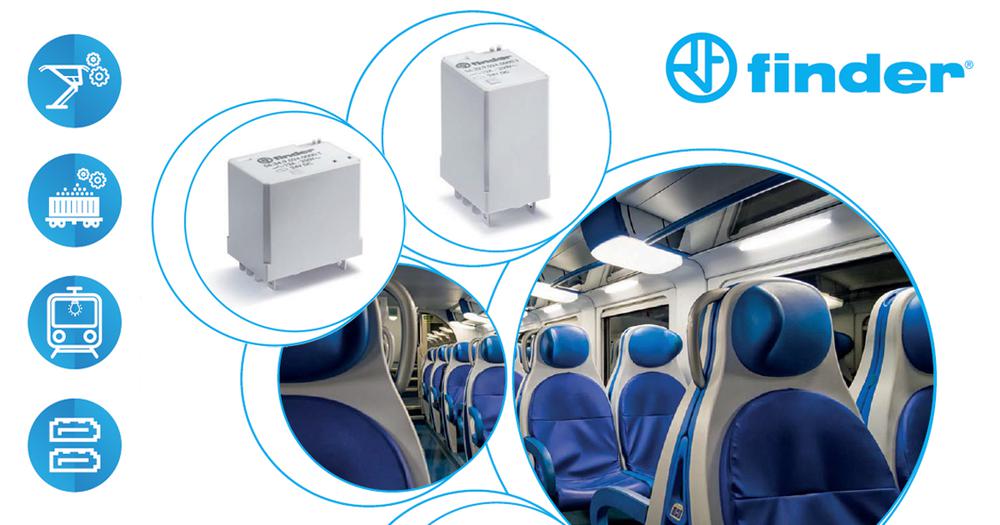 We chose one series of interesting relays that are authorised to be used in railway applications,
56T
.
Finder has been manufacturing electro-mechanical relays since 1954, and over the years, they gained great experience and can offer suitable relays for almost every application within the railway industry.
Typical applications for the 56T series can be found in the following areas:
Pantograph management
Bogie monitoring
Internal light management 
Mobile device charging
And what makes a relay the "railway relay"?
Finder relays and components used in the railway sector are subject to stricter technical standards, such as the need for wider operational ranges, higher resistance to shock and vibration, operation at higher temperatures and humidity and, above all, greater fire resistance.

In Europe, relays must meet the requirements of three European standards:
EN 45545-2 +A1:2016 (protection against fire of materials) 
EN 61373 (resistance against random vibrations and shock, Category 1, Class B) 
EN 50155 (resistance to temperature and humidity, TX class)
Find the Finder relay, 56.32.9.024.0000T, from the 56T series, in our stock range. For more information and more Finder products, please visit our website.

If your application is placed in another part of the train, Finder certainly has a solution for you, too. The areas of application of Finder relays are exterior light control, driver's control console, air conditioning, door control, and ancillary equipment.
If you are interested in these elements, do not hesitate to contact us at sales@soselectronic.com.

Features / Advantages of 56T Series:
Contact configuration: DPDT or 4PDT

Maximum rated current: 12A

Maximum peak current: 20A

Rated voltage: 250VAC

Maximum switching voltage: 400VAC

Coil voltage: AC: 110, 230V / DC: 24, 72, 110V

Terminals - Faston 4,8mm, plug-in (for sockets)

Sockets for DIN rail comply with the above-mentioned standards

Timer modules are available too
Do not miss these articles
Do you like our articles? Do not miss any of them! You do not have to worry about anything, we will arrange delivery to you.