Your product is intended for office, classroom, or bedroom and a clicking relay disturbs? – we have a solution for you.

In your device it switches all the time? Often too much? – we have a solution for you.

Do you rush? Don´t have a time to wait until an armature of electromagnetic relay gets back? - we have a solution for you.
This is an archive article published 07/06/2011. Some information may no longer be up to date and in line with the current state. Please contact us in case of interest.
We have for you a solid state relay Finder series 41.81 in two versions: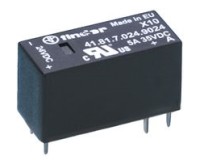 Model 41.81.7.024.9024 is with a transistor output and it is suitable for switching of DC loads up to 5A/ 24Vdc.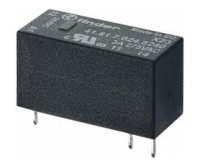 Model 41.81.7.024.8240 is with a triac output and it is suitable for switching of AC loads up to 3A/ 240Vac.
For controlling, it is necessary to use 24VDC and a current only 9mA. They can be inserted directly into PCB, into a PCB socket, or into a holder for DIN rail, while a DIN rail holder is available with a screwless or a screw terminal socket. At the height of only 15.7 mm they don´t require too much space in your device. Solid state relays are in many applications able to replace electromechanical relay. Their advantages shine mainly there, where are high demands for often switching, short switching times, constancy of parameters in a switched on statement, noiselessness and reliability.

You can also choose from many other types of SSR from our offer. For further informations about prices, delivery terms or in case of interest about samples, please contact us at info@soselectronic.com.
Advantages / Features:
noiselessness, no contacts burning off

significantly shorter switching on/off time in comparison to electromechanical relay

high lifetime, suitable also for high switching frequencies

big tolerancy to control voltage fluctuation (14-32V)

voltage insulation input/ output 2500V AC

low profile – 15.7mm

ambient temperature range -20 to +60 °C

wash tight - RT III
Do not miss these articles
Do you like our articles? Do not miss any of them! You do not have to worry about anything, we will arrange delivery to you.