You have plenty of possibilities when choosing a heatsink. We´ll advise you on how to be familiar with all of their main features.
This is an archive article published 05/15/2019. Some information may no longer be up to date and in line with the current state. Please contact us in case of interest.
At the beginning of the design, we have a free hand to choose the shape of the heatsink (cooler), although the logical requirement in most cases is to keep it as small as possible so it occupies as little space as possible on the PCB, if it is a smaller cooler designed for PCB mounting.
On the other hand, the shape is often more or less predefined by application requirements, especially if it is a heatsink which will be visible - e.g. as the back of the device. In that case, its size is predetermined, and the thermal properties can be mainly influenced by the height and density of the heatsink ribs.
What are the options when choosing a heatsink?
1) If the units are up to tens of Watts which we need to disperse, it will usually be the choice of
standard types of heatsinks, as for example
 picture (No. 1) shows.
2) If it is tens to hundreds of Watts and at the same time we need to take as little space as possible, cooling is better with cooling aggregates, or with water cooled heatsinks: (No.2)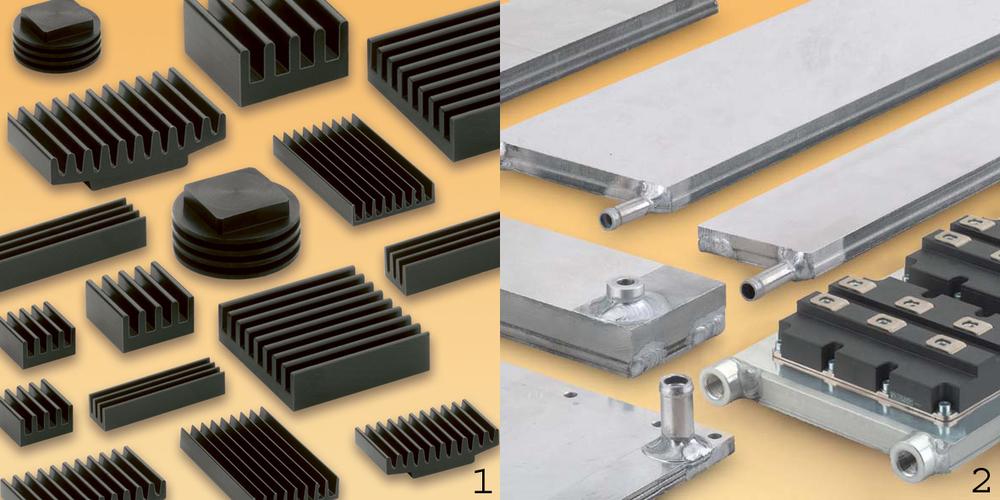 Aggregates and water cooling are a very effective solution, but of course, there are some complications such as e.g. increased noise due to a fan, gradually decreasing efficiency due to dust, limited fan life. Water cooling is then another special chapter and is used mainly at high power and high-density semiconductors on PCB.
Therefore, the most common choice is standard profiles, and of course, we can also help ourselves with fans, as we can see for example at PC processors.
What stands for the standard profile?
The answer is simple - these are coolers of many very different shapes and sizes, but they are commonly available as a
standard manufacturer's product
. Therefore, it is not a completely new shape of cooler according to your specific needs and for an order.
Is it possible to get a brand new heatsink with your own design?
Yes, it is even a relatively common, though a bit expensive, thing. Such coolers are usually produced by milling from a full aluminum block, and thus the requirements and capabilities of the milling technology need to be respected. In these cases, the manufacturer will be happy to advise you on what to look out for.
Is there also a hybrid between the standard heatsink and completely new design?
Yes, usually the best option is to use one of the standard profiles and have it adjusted by the manufacturer to your own requirements. The most common requirements include adjusting dimensions, milling, milling some (eg, extreme) ribs, drilling different holes with or without threads and the like. Usually, such modification directly at producer is
economical already for several tens or hundreds of pieces.
Do we need a heatsink with a surface treatment?
It has not only an
aesthetic but also practical function
, as we have summarized in our article 
Which heatsink surface treatment to choose?
Aluminum, although having good thermal conductivity, has an exceptionally low emissivity without surface treatment. In closed, low-air-handling systems, where heat radiation plays a major role, the black anodized cooler can also double the efficiency of a non-coated aluminum cooler. Since the black anodized finish is relatively inexpensive, aesthetic and practical adjustments are very suitable.
According to which criteria do we choose an ideal heatsink size?



The thermal resistance
Rth
of the heatsink measured in
K / W
basically speaks of how many Kelvin ('C') the heat sink temperature increases when it is heated to 1Watt. Detailed calculation of temperature conditions is beyond the scope of this article and we will bring you more on this topic in the future.

Each standard profile has a graph of Rth depending on length. As we see, the graph is logarithmic, not linear. To put it simply, this is also because the thickness of the base and hence the thermal conductivity in the longitudinal direction is limited.
This clearly shows that it does not make much sense to increase the length of the heatsink too much. If a lower Rth is needed, then it is preferable to use a wider profile and possibly with higher ribs.
Should you have any other questions regarding heatsinks or you are interested in any of the heatsinks from Fischer elektronik, we will be glad to advise you at sales@soselectronic.com

Do not miss these articles
Do you like our articles? Do not miss any of them! You do not have to worry about anything, we will arrange delivery to you.