Discovering of overheating and joints with a high resistance has never been easier and safer. With the type Flir i3 now moreover price-affordable.
This is an archive article published 06/27/2014. Some information may no longer be up to date and in line with the current state. Please contact us in case of interest.
Thermal cameras, i.e. cameras sensitive in infrared range bring a useful information - picture with virtual colors responding to a temperature of a scanned surface. Maybe, at the word "thermal camera" you too get an idea about a well known usage in buildings - inspection of a heat leakage (thermal bridges) = status of a thermal insulation of buildings. But that´s only one of many ways to use these devices. In electronics and power engineering it´s far more interesting for example:
● searching for faults on a PCB, optimizing of layout in respect to an even heat distribution
● inspection of distribution boxes with cables, terminal blocks and circuit breakers
● inspection of motors and transformers
● inspection of cables interconnections (overheating caused by a high resistance)
● inspection of cooling efficiency - heatsinks, fans, …
● inspection of solar panels

...and all this at full operation and under (often high) voltage.
"I have an infrared thermometer, thus I need no camera" - this is a frequent opinion - until the time, you once try working with a camera. The joke is, that one picture from for example camera Flir i3 with resolution of "only" 60x60 pixels equals to 3600 measurements of an IR thermometer. It can be said, that one picture taken by the camera even exceeds 3600 measurements (done by an IR thermometer), because a spatial resolution of the thermal camera is usually better (surface measured by one pixel is smaller) than that of IR thermometers. This way it can happen, that a small source of heat (for example a small overheated component) can´t be discovered by an IR thermometer, while with a camera it will be clearly visible. Naturally, there are many applications where only an IR thermometer is sufficient, but cameras are far better for a professional usage and a maximum work efficiency.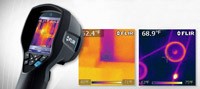 That´s why we decided to incorporate into our offer the world renowned cameras from company FLIR, which is on the edge of development in this segment. As a standard stock item can be found type Flir i3 (3600 px) with resolution of 0.15°C and a viewing angle 12,5°x 12,5°. Big 2,8" TFT display shows all necessary information and settings. Very advantageous is a possibility to store up to 5000 snapshots into a uSD card (2GB, jpg) and a consequent transfer of files into a PC through a USB. Further detailed information will provide you the Flir i3 datasheet.
Upon order we´re able to supply you any other type from company FLIR in a short leadtime..

In case of interest, please contact us at info@soselectronic.com.

Advantages / Features:
3600 px thermal camera (-20...+250°C)

excellent tool for development and servicing

memory for 5000 jpg pictures (2GB uSD card, transfer to PC via USB)

built-in (exchangeable) LiIon battery with an AC adapter

9 Hz refresh rate

12,5°x12,5° viewing angle

accuracy ±2% or 2°C

resolution 0.15°C

adjustable emissivity 0,1-1

supplied in a rigid plastic case
Do not miss these articles
Do you like our articles? Do not miss any of them! You do not have to worry about anything, we will arrange delivery to you.