LT series LED drivers with 10-100W power represent a complete solution with wide possibilities of control. Exceptionally narrow and slim design, remained even at high-power versions, provides a high flexibility of use.
This is an archive article published 03/05/2015. Some information may no longer be up to date and in line with the current state. Please contact us in case of interest.
Power supplies for LED lighting (so called drivers) are available from many producers, in a various qualitative level. Why to decide just for the LT series from German company Friwo? Here are few reasons:

• precise design, safe operation and a long lifetime
• voltage and current regulation in one device
• high efficiency and a possibility of dimming in a range of 0-100% directly via a CTRL pin
• modules are available in 10-100W power, with a possibility of customization by laser directly at production
• also available a module for dimming - so called DIMMbox, further expanding possibilities of control (switch, 1-10V, DALI) and with a possibility of synchronization with up to 1000 slave units
• very small cross section of modules (21x30mm, resp. 24x30mm at LT100) - applicable even in very tiny conditions
Wide control possibilities of LT series modules are perhaps the most interesting. Modules contain a galvanically isolated CTRL input, by which it is possible to switch on/ off the module without disconnecting from 230V mains. CTRL pin also serves for regulation of an output current. For this purpose, only one resistor (or a potentiometer) is necessary - connected between SEC+ and CTRL pins, with a value counted by a simple formula in the datasheet. The output current can also be controlled by an external voltage in the range of 0-1,8V connected to SEC- and CTRL, as well as by means of a PWM TTL (0/5V).

Further possibilities of control are provided by a standalone additional module DIMMbox. DIMMbox operates as an (almost) lossless PWM regulator with a MOSFET switched at f=600Hz. DIMM-BOX connected to any series LT driver enables to regulate an output current in a range of 10-100% or 0% (OFF) via a usual switch ("switch-dimm" mode), via a linear voltage 1-10V and also a DALI interface. DIMMbox tests after switching on, which of three methods of control is used and consequently accepts only signals from a given input - until switching off the module. DIMMboxes can be connected through SYNC inputs, ensuring the same level of dimming for all modules. Enclosed pictures will provide you the best idea about possibilities of connection.

Every power class is available in several versions, with various output voltages and currents . Detailed information will provide you the LT series overview, DIMMbox datasheet, as well as datasheets of particular models, for example LT20 or LT100.

In case of interest please contact us at info@soselectronic.com.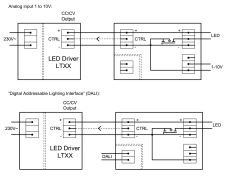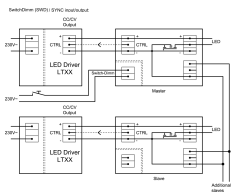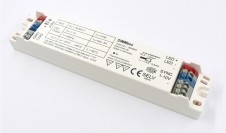 Advantages / Features:
complete system with a high flexibility of use

voltage and current regulation with a shortcut and overload protection

minimal output tolerances via laser trimming

high-power types even contain an active PFC

simple installation by screws, rivets or cable straps

compact design, usable even in tiny conditions

suitable even for furniture applications thanks to optional cable covers

the DIMMbox is available, further expanding possibilities of control
Do not miss these articles
Do you like our articles? Do not miss any of them! You do not have to worry about anything, we will arrange delivery to you.