Thanks to a 15-36V output voltage, it can be connected to almost every LED module and a stable output current of 1050 mA will take care for a reliable operation.
This is an archive article published 04/23/2014. Some information may no longer be up to date and in line with the current state. Please contact us in case of interest.
In fact, majority of features of a new a new LED driver (power supply) - LT40-36/1050 WP (1894661) were mentioned in a subject and a preface of this article. But not to be that brief, we can add, that the new LED driver features the same good properties like its familiar descried in the article - Friwo drivers not only drive your LEDs but even control them .... From the basic types it differs mainly by a water-tight design - by encapsulation in a resin, that´s why it also withstands operation in a humid or dusty environment. This version doesn´t have an external input, thus it operates only as "standalone", in a "constant current, limited voltage" mode. Output voltage 15-36V means, that the LED driver should only supply such a module, whose forward voltage (Vf)at a given current is 15-36V, what in praxis means approx. 6-11 (12) white LEDs in series.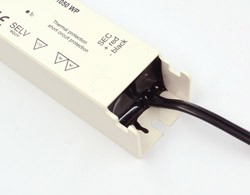 That´s why LT40-36/1050 operates as a power supply, whose open voltage (without a load) is 36V. This voltage remains constant up to 1000 mA current drawing and then the voltage drops down to 15V when a current reaches 1050 mA. This ensures a constant current, i.e. if we for example connect a LED module with Vf=24V, the driver will source 1050 mA current (at 24V). LT40-36/1050WP shouldn´t be used to supply modules with a Vf lower than 15V. In such case, the types handling lower voltages are suitable, for example
LT10-16/700
or
LT20-28/700
. If we wish to reach a maximum power from a given LED driver, it´s naturally beneficial to use a LED module with a Vf on an upper level of an output voltage of a given LED driver (33-36V in this case).
Advantages / Features:
water-resistant LED driver (IP67)

voltage and current regulation with a shortcut and overload protection

over-temperature protection

efficiency typ. 86%, EuP2

minimal output tolerances via laser trimming

active power factor correction (PFC)

simple installation by screws, rivets or cable straps

compact design, usable even in tiny conditions
Do not miss these articles
Do you like our articles? Do not miss any of them! You do not have to worry about anything, we will arrange delivery to you.
Gain the Friwo LED driver for free!
Competition with the following question has been published here:
What are the dimensions of type LT40-36/1050WP?
The correct answer was: 200x21x30mm
We have drawn the following winners:
Petr Knapek [CZ]
Congratulations to winners. We´ll inform them by e-mail.