New USB power supply Friwo Mini provides a surprising power in miniature dimensions.
This is an archive article published 04/26/2012. Some information may no longer be up to date and in line with the current state. Please contact us in case of interest.
Friwo mini USB – FW7713 is a beautiful example how modern switch-mode power supplies continuously move borders of power while keeping small dimensions. Adaptor 5V/1A with an USB-A output connector is an ideal device for travelling as well as for every office. It enables to supply or recharge almost any USB device.
With such small dimensions it occupies only a minimum space and it is usable even in narrow multiple power-line sockets. Similarly like for example Friwo PP12 power supplies, even Mini USB is equipped with a shortcut protection acting at exceeding of a nominal current by more than 10% and it will withstand even a continuous shortcut. Wide input voltage range contributes to a universal usage. With a stand-by power consumption below 0.1W it fully complies to the latest directives. Detailed information will provide you the FW7713 datasheet.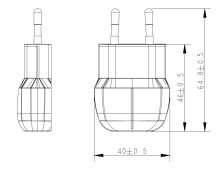 Advantages/ Features:
5V/1A adaptor with a USB-A connector

universal input voltage range 100-240V/50-60Hz

standby consumption below 0.1W ( EuP 2)

efficiency over 78 %

constant voltage, current limited

continuous shortcut protection

ambient temperature 0 to +40°C
Do not miss these articles
Do you like our articles? Do not miss any of them! You do not have to worry about anything, we will arrange delivery to you.