An integrated mounting flange and a wide range of mostly larger new plastic and aluminium enclosures of the 1555F and 1455F series from Hammond Manufacturing will make mounting your application on any surface much easier. (reading for 2 minutes)
Small industrial enclosures by Hammond have a long tradition on the market 
The 1555 series of plastic enclosures by Hammond is the industry standard. They are solid enclosures in an elegant design with a dedicated space, e.g. for a sticker with a description or to protect the buttons on the front panel. The 1455 series of enclosures by Hammond is again a bestseller among aluminium enclosures. You can read more about both series in our previous articles.
What news do the Hammond 1555F and 1455F series of enclosures bring?
The new versions of the electronic enclosures that were recently launched on the market with the designation 1555F and 1455F (F – flanged), have a mounting flange that is a fixed part of the enclosure. It highlights the integral and unified design of the enclosures, and at the same time, the security of storing the given application is also increased. 
All the main features of these enclosures are the same as their basic versions (1555 and 1455). However, the main difference is that, thanks to the integrated flange, their installation on the wall is really very simple and practical.
"Each electronic enclosure Hammond includes four stainless steel screws for assembling the enclosure itself. It is being mounted from the bottom side, so no connections are visible from above. It is necessary to secure the screws for wall mounting according to the type of material to which the flange is mounted," says Martin Brestovič, product specialist from SOS electronic. 
However, the biggest news is the significant expansion of available sizes. The manufacturer added the missing sizes and mainly enclosures of larger dimensions for an even wider range of applications:
There are 8 new sizes for the plastic series 1555F. Altogether there are 23 different sizes with dimensions of up to 240 x 180 x 61 mm. From each version, you can choose a version made of ABS plastic or a UV-resistant enclosure made of polycarbonate (PC), which is suitable for outdoor use.
Aluminium series 1455F introduces 4 new sizes and altogether with the previous two, we have a choice of 6 different sizes with dimensions of up to 160 x 103 x 123 mm.
All available versions of Hammond Manufacturing's 1555F and 1455F series of industrial enclosures and their dimensions are best illustrated in the following tables: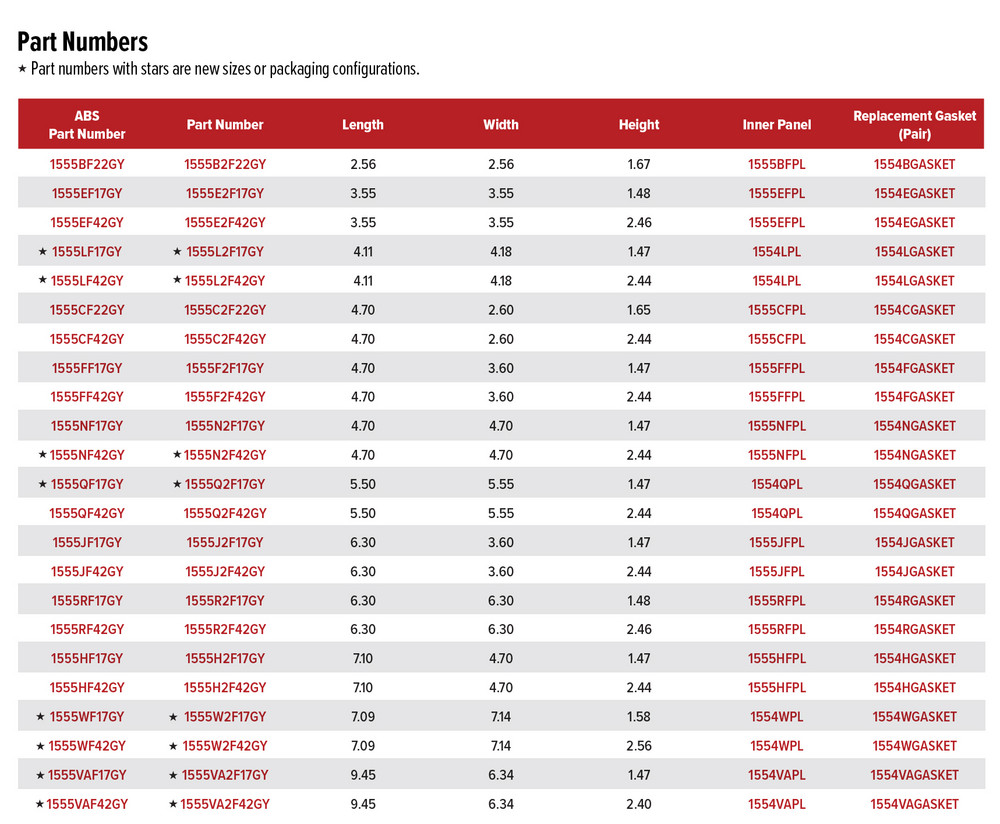 We have also expanded our range of industrial enclosures with new sizes of those by Hammond and they are available for your projects directly from our warehouse. We can deliver all other versions to you in a short period of time and under favourable conditions, starting from 1 piece.
Are you interested in more information on Hammond products or technical advice when choosing a product? Or do you have another question or request? Please fill out the following form, we will be happy to help you. 
Do not miss these articles
Do you like our articles? Do not miss any of them! You do not have to worry about anything, we will arrange delivery to you.